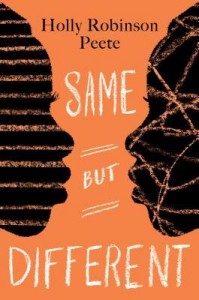 Peete, Holly Robinson, Ryan Elizabeth Peete, and RJ Peete.  Same But Different: Teen Life on the Autism Express. New York: Scholastic Press, 2016. 978-0545-094689. $17.99. 183 pp. Gr. 5-12.
This insightful book presents the life of twin siblings, Charlie, who has autism, and Callie, who does not.  Through their separate voices, readers learn the difficulties of labels, of being the "special" one, of being the savior, of hating having "two moms."  The love between Charlie and Callie is real, and they repeatedly voice their understanding of one another, despite not truly understanding everything the other experiences.  This is a work of fiction based upon the lives of brother and sister Ryan and RJ Peete; their mother provides the opening and closing letters.  The statistics she gives are sobering: one in sixty-eight children in the U.S. is diagnosed with an autism spectrum disorder, and an estimated fifty thousand of those turn eighteen annually (no pagination).  We all know and some may teach, or live with, a person with autism.  This book gives any of us a chance for greater compassion and understanding and patience for all of those involved.  Extensive resources section.  THOUGHTS: This book or excerpts from it could be used in language arts for examples of multiple perspective novels and a springboard for writing from various perspectives.  It could be used in counseling, learning support, or social sciences classes to explore societal interaction and friendship.  It may perhaps be most helpful to the siblings of those with autism, due to the unique status that autism brings to them and their families.  Pair with The Reason I Jump (2015) for another insider's look at autism.  
Realistic Fiction (Autism)         Melissa Scott, Shenango High School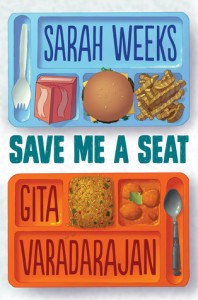 Weeks, Sarah and Gita Varadarajan. Save Me A Seat. New York: Scholastic, 2016. 978-0-545-84660-8. 216 p. $16.99. Gr. 3-7.
Ravi and Joe are both kids in need of a friend; Ravi is a new student who just moved to New Jersey from India, and Joe is a quiet kid whose twin best friends moved away over the summer. It might seem like they would naturally gravitate towards each other, but Ravi was top dog at his school in India, and Joe is used to being the last one picked in gym class. He's also used to bully Dillon Samreen and his sly brand of cruelty. Ravi thinks that Dillon will be his new best friend, but Joe quickly realizes that Ravi is just the next target for Dillon's bullying. Both boys have a tough start to their fifth grade year for different reasons, but they come together for a common purpose and realize that they're not so different after all. This is an excellent, quick read that alternates between Ravi and Joe's perspectives and includes a glossary for each boy (especially helpful for Ravi, who uses a lot of Indian words in describing his food, home life, etc.). THOUGHTS: Another winner from Weeks and newcomer Varadarajan; Ravi and Joe are as real as fifth graders come and your students will find themselves in the midst of a very believable elementary school tale.
Realistic Fiction     Lindsey Long, Nye & Conewago Elementary Schools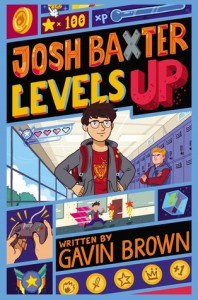 Brown, Gavin. Josh Baxter Levels Up. New York: Scholastic Press, 2016. 978-0-545-77294-5. 172p. $12.99. Gr. 3-7.
For the third time in two years Josh is new at school. Understandably, Josh is tired of being the new kid and having to make new friends. His mother is working extra long hours since the loss for Josh's father. At this point Josh would rather play his video games than meet people. Poor midterm grades lead his mother to lock away all of his video games and equipment. Maya becomes his writing tutor at school, and eventually he contemplates asking her to the school dance. Having a fight with the star football player, Mittens, causes Josh the most time in punishment but takes Mittens out of the big game. During difficult moments, Josh thinks how his favorite video game characters would react to the situation. Peter, the student who sticks up for Josh in his fight with Mittens, invites Josh to play Smash Bros. with him, Taniko, and Chen. Josh joins the video competition team and leads with the newly added sports games that he loved playing with his later father. Will they be able to defeat Mittens and his team? THOUGHTS: Tie into English with types of narrative and conflict. After each chapter there is a chart of Josh's health, lives, and new skills unlocked. At different times in the novel readers can see the heart symbol to see the level of health for Josh.  The book has real heart as Josh struggles with the loss of his father and his belief that his seemingly perfect older sister did not struggle with the loss of their father. Ideal for all gamers, sport stars and everything in between type of readers.
Realistic Fiction    Beth McGuire, Wendover Middle School