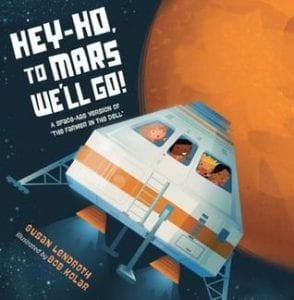 Lendroth, Susan. Hey-Ho to Mars We'll Go!: A Space Age Version of Farmer in the Dell. Charlesbridge, 2018. 978-1-580-89744-0. Unpaged. $16.99. K-3.
Lendroth has written space age lyrics to the well-known children's song "Farmer in the Dell" in this engaging text. The book tells the story of four children who are on an exploratory trip to the planet Mars. The text consists of four lines mimicking the cadence of the original song, and it chronicles their trip from Earth until they land and explore the red planet. On each page, the song lyrics are written in a large font size, and there is accompanying smaller font which gives factual information about the topic discussed. For instance, when the spacecraft lands, the author writes, "Lock helmets into place…" and then explains about the air quality on Mars and the necessity for special equipment.  The illustrations are done on a large scale and were created using a computer. The book design adds to the understanding of the text. The text is placed sideways when traveling in space and even upside down when talking about the lack of gravity in the spacecraft. In the back matter, the author has included information about what is needed for a mission to Mars, and it is contained in a drawing of a red planet.  
THOUGHTS: While not a first purchase, this book will make a great read aloud, and children will enjoy joining in the refrain "Hey-Ho to Mars, we'll go…" Music teachers will enjoy using this variant in their units on vocal music.
629.45  Space Flight          Denise Medwick, West Allegheny SD
---
Gravett, Emily. Old Hat. Simon & Schuster Books for Young Readers, 2018: ISBN 978-1-534-40917-0. 24 p. $17.99. Gr K-3.
Harbet is a dog whose favorite hat is the one his Nana knitted when he was just a pup. It's warm and keeps his ears toasty. He proudly wears it all around until his peers mock him, taunting "Old Hat!" Harbet tries to keep up with fashion trends, purchasing the latest hat styles. But, no sooner has he donned his new headwear than something more up-to-date hits the stores. From construction cones to sailing ships to cookware, Harbet always seems to be one beat behind. Finally, Harbet gives up and does something daring – something no one has done before: Harbet takes off his hat. When his peers see what Harbet has been hiding beneath his many caps, the tables are turned, and they are the ones racing to keep pace with him. In this whimsical story about finding the courage to march to your own drum, brightly colored pencil, watercolor, and acrylic illustrations pop against solid white pages, making the variety of hats Harbet tries even more visually stunning.
THOUGHTS: Young readers will enjoy examining Harbet's many new hats, making this a perfect choice for a read-aloud. Teachers and librarians can extend the story, discussing the themes of peer pressure and also the idea of being yourself and doing what makes you happy.
Picture Book          Anne Bozievich, Southern York County SD
---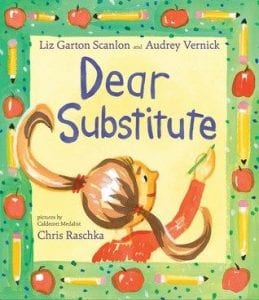 Scanlon, Liz Garton, and Audrey Vernick. Dear Substitute. Disney Hyperion, 2018. 978-1-484-75022-3. 35 p. $17.99. Gr K-3.
Life in Room 102 is turned upside down when Mrs. Giordano calls in sick, and Miss Pelly shows up to substitute for the day. Miss Pelly mixes everything up: she mispronounces names during attendance, doesn't collect the homework, skips library time, and doesn't clean the turtle tank, even though it's Tank Tuesday. Instead of reading from the chapter book they've started, Miss Pelly reads funny poems about crocodiles and underwear, and she laughs all the time. The day's events are narrated by a brown-haired girl with two ponytails. Each double-page spread features an epistolary poem describing the day's events from her perspective. By the end of the story, she's changed her mind about Miss Pelly after realizing poetry isn't so bad, and she comes to the conclusion that sometimes you've got to mix things up a little. Caldecott-winner Chris Raschka's vibrant watercolor illustrations capture the range of emotions the narrator experiences throughout the day, and his loose, whimsical style perfectly communicates her changing feelings.
THOUGHTS: This book will be perfect to share with students before an anticipated absence, and its reassuring message that things will be alright even though the daily routine is different will resonate with young readers. This title could also be used in conjunction with poetry units as it celebrates epistolary poems as well as poetry in general.
Picture Book          Anne Bozievich, Southern York County SD

---
Applegate, Katherine. Sometimes You Fly. Clarion Books, 2018: ISBN 978-0-547-63390-9. 40 p. $17.99. Gr K-3.
This text, composed of rhyming couplets, celebrates perseverance and resilience by reminding readers that oftentimes, the thrill of success is preceded by flops and mistakes. Each couplet begins by showing someone struggling with a new or difficult task such as baking a cake, learning to swim, trying to read, learning to drive, or studying for an exam. Page turns are used effectively to show the same person experiencing success with the task on the back side of the page. The idea that mistakes and challenges ultimately make our accomplishments even more memorable is underscored by lively ink and watercolor illustrations depicting a diverse array of children both succeeding and failing at their pursuits.
THOUGHTS: This title naturally lends itself to character trait lessons since it underscores the ideas that making mistakes is okay as long as you learn from them and use the experience to grow and persevere. It highlights the idea that nobody is perfect and celebrates that sometimes life's greatest challenges can also lead to its sweetest moments.
Picture Book Biography          Anne Bozievich, Southern York County
---
Vernick, Audrey. The Funniest Man in Baseball: The True Story of Max Patkin. Clarion Books, 2018: ISBN 978-0-544-81377-9. 40 p. $17.99. Gr 2-4.
As a boy growing up in Philadelphia, Max Patkin dreamed of a career in professional baseball. His goal was to become a pitcher, but while playing in the Minor Leagues, an arm injury sidelined him. Although his pitching career was over, Max found another way to make his mark on the game: as a baseball clown. For five decades, and more than 4,000 games, Max entertained crowds of fans by goofing around on the field with players, dancing around the baselines, playing hopscotch in the dirt, and doing anything he could to coax a laugh from the crowd. This picture book biography introduces readers to baseball's most memorable clown, and the lighthearted text and whimsical illustrations spotlight some of his best-loved comic routines.
THOUGHTS: This title could accompany lessons and discussions about perseverance, since Max Patkin didn't let his arm injury end his baseball career: instead, he embraced the different direction his career took. This will also be popular with sports fans, particularly those interested in historical tidbits.
Picture Book Biography          Anne Bozievich, Southern York County
---
Rubin, Sean. Bolivar. Archaia, 2018. 978-1-68415-069-6. unpaged. $29.99. Grades 2-5.
Bolivar is the last dinosaur left alive anywhere! He doesn't like attention, so he lives in New York City, where no one takes the time to notice much of anything. Only young Sybil knows that her next-door neighbor is a dinosaur (even if she can't prove it … yet). Bolivar is perfectly happy to hide in plain sight, until a case of mistaken identity leads him to City Hall and then to the Natural History Museum to deliver a speech about the new dinosaur exhibit. Even busy New Yorkers notice the dinosaur at the podium, and the chase is on! Can Bolivar elude capture and return to his quiet life? Framed as Sybil's assigned essay on a "person" in her neighborhood, Bolivar is a delightfully illustrated urban adventure. Sean Rubin's crosshatched artwork rewards repeated readings as details emerge in action-packed cityscapes and expressive faces. Adult readers will especially appreciate the winks to Indiana Jones and Where's Waldo.
THOUGHTS: This beautiful, heartfelt homage to childhood imagination (and the importance of slowing down to take in the world around us) will be enjoyed by readers of all ages.
Picture Book/Graphic Novel          Amy V. Pickett, Ridley SD
---
Wittenstein, Barry. Illustrated by Chris Hsu. The Boo-Boos that Changed the World: A True Story about an Accidental Invention.  Charlesbridge, 2018. 978-1-580-89745-7. $16.99. Grades K-3.
Wittenstein recounts the true story  of how Earle Dickson developed the now ubiquitous BandAid to help his accident prone wife, who seemed to have injured herself at home on a daily basis. Earle, as a buyer for the Johnson and Johnson company, was in a unique position to develop this product that has become an absolute necessity of life. This humorous picture book with charming illustrations cleverly points out that necessity is truly the mother of invention, but also shows the stops and starts on the way to Earle's and the BandAid's success. Includes  a timeline of the inventor's life, a timeline of important medical discoveries and links to sites with more information on the product recognized and used the whole world over.
THOUGHTS: A humorous, nonfiction choice to add to your collection on inventions.
617.1 Medical Innovations          Nancy Summers, Abington SD
---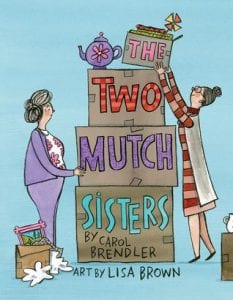 Brendler, Carol. Illustrated by Lisa Brown. The Two Mutch Sisters. Clarion Books. 2018. 978-0-544-43074-7. $17.99. Grades K-3.
Twin siblings, Violet and Ruby Mutch,  must absolutely have a copy of every collected item for each of them. Living together for their entire lives, the silly siblings have collected all sorts of strange objects including glockenspiels, gargoyles, snorkels, and spittoons. As the years pass, the sisters run out of room in their crowded house, and Violet decides to move out.
THOUGHTS: A lighthearted and humorous tale of how loved ones can stick together, even if everyone needs their own space.  
Picture Book          Nancy Summers, Abington SD
---
Singer, Marilyn, and Susan Roth. Every Month Is a New Year. New York: Lee & Low Books. 2018. 978-1-630-14162-5. $20.95. Unpaged. Grades 2-5.
New years start all the time, not just on January 1st. Whether school years or sports seasons, we have traditions that go with our calendars. The informative poetry book Every Month Is a New Year takes readers around the world as the months turn to show how people celebrate their new year traditions. Singer's short poems capture the essence of the holiday through a child's first person viewpoint. The traditions range from water battles to fire cleansing, from food celebrations to dancing, and several ways to cleanse their souls and start anew. The detailed fabric collage that Roth weaves adds color and imagination to the mix, and the format of a full calendar that reads like it should be hung on your wall helps set the book apart. Informative text about the calendar systems through history and further descriptions, pronunciation, and sources for each new year are included toward the end. And since every end is a new beginning, readers may just want to turn the calendar and start anew!
THOUGHTS: This book would be an excellent addition to a poetry collection, and the diversity of people and places helps open the eyes of readers to unfamiliar traditions. They may be left with more questions after reading the poem and the description, so further inquiry should be expected.
811 Poetry          Dustin Brackbill, State College Area SD
---
Morpurgo, Michael. Pinocchio: In His Own Words. Illustrated by Emma Chichester Clark. Harper Collins Children's Books, 2018 (this edition). 266 p.  978-000835769-9 $17.99 Grades 3-6.
Pinocchio–that misunderstood puppet-boy who is somehow always compelled to choose fun over obedience–tells his story here, his way.  He'll tell you about how poor Signor Gepetto crafted him for his sad wife, and how he should have gone to school but was repeatedly tempted away by other, more fun activities.  This is a long, winding tale of mishaps and misfortune, at times humorous and at times groan-worthy, as when Pinocchio says of himself, "I know what you're thinking. You're thinking, don't do it, Pinocchio!…Well, I'm sorry to say I believed what I wanted to believe; I fell for it hook, line and sinker.  When I look back on it now, I can't believe how stupid I was!" (82) or "I hate work. It's hard. It's difficult" (172). Pinocchio encounters a variety of creatures in his travels, including a Talking Cricket, a Lame Fox and Blind Cat (swindlers who much later prove repentant), his 'dear sister,' the Good Fairy with sea-blue hair (who acts as his conscience) and Lampwick, a boy who entices him to go to the Land of Toys (whereupon both boys become donkeys destined to work until death).   Pinocchio always intends to return home and make his poor mother and father happy again, but something always distracts him.  Only in one story does his nose grow as he lies–and the Good Fairy is there to help–with woodpeckers.  A moralistic story where nothing truly bad happens to a boy who behaves badly but is excruciatingly slowly learning kindness.  Finally, the story comes full circle and by the end, "I'm not quite such a 'wooden-head' as I was–or I hope I'm not. My Good Fairy still whispers to me from time to time, drops gentle hints to remind me that everyone matters, reminds me always to be kind" (266).   
THOUGHTS: For upper elementary, this could be a humorous read-aloud. It is certainly a more interesting telling of the original Pinocchio tale, accompanied by appealing illustrations.

Fantasy, Fairy Tale          Melissa Scott, Shenango Area SD
---
Munro, Roxie. Rodent Rascals. Holiday House, 2018. 978-0-823-43860-0. 32 p. $17.95. Grades 2-5.
This book provides the reader with a fascinating look into the world of the rodent.  In the introduction, Munro explains that these animals are the "largest order of mammals" and discusses how they are useful to humans. Drawings are done to actual size, so the entire rodent is not shown in all cases, like the capybara. Even so, Munro plays with the book design by showing the capybara's back leg on one page followed by a drawing of its face on the next page.  One rodent is featured per one or two page spread, except for the smaller ones like the pygmy jerboa. The animals appear in order from smallest to largest in the book. The pictures are accompanied by text that gives interesting facts unique to that creature, like how a muskrat eats on a table-like pile of mud and how one rat has been trained to find minefields. The illustrations are done in India ink and colored acrylic ink and make even the notorious Norway rat seem appealing. The endpapers contain simple line drawings of every rodent discussed in the book. In the back matter, the reader can learn more about the physical description and habitat of the animal. The author lists her sources and presents a number of websites for more information. After reading Munro's work, even those readers who cringe at the thought of rodents might find themselves looking at these mammals in a different light.
THOUGHTS: Children will enjoy reading this text for personal interest, especially since some of the animals are well-known pets, like the guinea pig and gerbil. It is unusual to see a book entirely about rodents, so elementary libraries will want to add this unique work to their collections.
599.35  Rodents          Denise Medwick, West Allegheny SD