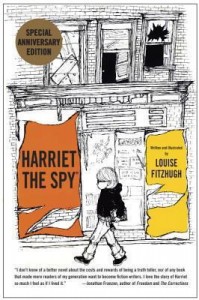 Fitzhugh, Louise. Harriet the Spy. New York: Delacourte Press, 2014. 978-0-385-37610-5. 328 p.   $17.99. Gr. 3-6.
It's hard to believe, but this year marks the 50th anniversary of Louise Fitzhugh's Harriet the Spy! The story is the same but the special anniversary edition includes a map of Harriet's neighborhood and spy route, as well as tributes to Louise Fitzhugh and Harriet by many famous authors including Judy Blume, Lois Lowry, Patricia Reilly Giff, and Rebecca Stead, among others.
I'm sure that most of us know the story of Harriet, but if not, now is the time to discover it. Harriet keeps a secret notebook and spies on her friends and neighbors. She's brutally honest in her notebook, saying things like "Pinky Whitehead will never change. Does his mother hate him? If I had him, I'd hate him." Things go awry, however, when she loses her notebook and many of the people mentioned inside read the things that she has written about them. Harriet must find a way to mend all these broken relationships in her life.
While some kids might struggle with a few outdated references and ways of life, find those good readers who will stick with Harriet during her struggle—they will be amply rewarded.
Fiction                             Lindsey Long, Nye Elementary School
Litwin, Mike. Lost in Bermooda. Chicago: Albert Whitman & Company, 2014. 978-0-8075-8718-8. 140 p. $14.99. Gr. 2-6.
How many cow puns and plays on words can one author fit into a book? I have a feeling that Mike Litwin would get the record for Lost in Bermooda!
Chuck Porter's cow family lives peacefully on the island of Bermooda along with lots of other animals. A shipwreck hundreds of years ago yielded enough artifacts for these animals to learn to speak, read and write, and create a society. It seems like an animal's slice of paradise, but little Chuck is full of questions and just wants to know more about these fabled "hu'mans" that he hears about.
When he meets a young boy named Dakota who has washed up on shore, they form a quick bond, and Chuck disguises Dakota in "cowmaflauge" and takes him home. Chuck and Dakota hatch several plans to get Dakota home, and in the process discover that Wilhelm Wellington, a power-hungry cow, is trying to fool the other Bermoodians into electing him as leader. Chuck and Dakota save the day and everything is peaceful once again.
Places are named things like Cowabunga Falls, and cow puns abound, but overall it's a quick, comical read for boys and girls alike.
Fiction                           Lindsey Long, Nye Elementary School
McKay, Hilary.  Lulu and the Cat in the Bag.  Chicago: Albert Whitman & Company, 2013.  978-0-8075-4804-2. 83p.  $10.93. Gr. 1-2
For every reader that loves animals there is a Lulu book. This book is an addition to a great series of books for those emerging readers getting ready for chapter books.  The text is double-spaced and there is white space and occasional illustrations to break up the text.  Lulu is an engaging character that has a love for all animals.  Each book takes the reader on an adventure to help save and care for the animal.  In Lulu and the Cat in the Bag, Lulu is faced with the dilemma of how to care for an animal when they already have so many.  Reader's will fall in love with these books and want the entire series.
Some others in the series:
McKay, Hilary.  Lulu and the Dog From the Sea.  Chicago: Albert Whitman & Company, 2013.  978-0-8075-4820-2.
__.  Lulu and the Duck in the Park. 978-0-8075-4808-0.
__.  Lulu and the Hamster in the Night.  978-1-4071-3201-3.
__.  Lulu and the Hedgehog in the Rain.   978-1-4071-1320-6.
Realistic Fiction                      Denise Naumann, Eisenhower Elementary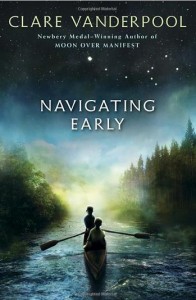 Vanderpool, Clare. Navigating Early. New York: Delacorte, 2013. 978-0385742092. 320p. $16.99. Gr. 5+.
Awarded the Newbery for her first novel, Moon Over Manifest, Vanderpool again brings us an engaging story with rich, varied characters and more than a few plot surprises. The life of our narrator Jackie, a 13-year-old boy from Kansas, has just been turned upside down. His dad left 4 years ago to join the Navy as a WWII ship navigator, and his mother just passed away from a brain hemorrhage. Dad uproots Jackie and enrolls him a boys' boarding school in coastal Maine, close to dad's Naval base. Depressed, lost in this new place, and naturally shy, Jackie finds his sole friend in Early, an orphan who everyone considers odd. Early is a math savant – numbers tell him a very real story – and when Jackie and Early set out on an adventure, Navigating Early takes on many characteristics of Homer's Odyssey. Vanderpool deftly alternates the tale from realistic, historical fiction back and forth to magical realism. While there is nothing objectionable or overly mature about this book, readers grade 7+ are likely to most appreciate the life experiences portrayed in this book. Highly recommended.
Historical Fiction/Magical Realism           Kathie Jackson, Plymouth Meeting Friends School
Asquith, Ross. Letters from an alien schoolboy. New York: Sky Pony Press, 2013. 978-1-62087-536-0.
192 p. $12.95. Gr. 3-6.
Flowkwee will go to planet earth disguised as a human and be called Nigel. Their mission is to improve upon the Earthlings. Nigel needs to learn about all of the habits of children and help convince the children to enter the improving machine. From the fear or toilets and the shock at women being allowed to have the same opportunities as men, Nigel learns that he actually likes being on earth. Will the humans be improved or will those in search of spinach, the Threggs, take over? Illustrations accompany the novel.
Fiction (humorous, science fiction)        Beth McGuire, Wendover Middle School 
Angus, Jennifer. In Search of Goliathus Hercules. Chicago: Albert Whitman, 2013. 978-0-8075-2990-4. 350 p. $17.99. Gr. 3-6.
Henri moves in with his Great Aunt Georgie in The United States of America as his mother searches for his missing father. While at his great Aunt's, Henri surrounded by her collection of buttons and the unsettling neighbor Mrs. Black. Shortly later, Henri communicates with a fly and decides to join the circus and trains a successful flea show. He contacts a well-renowned entomologist and works to arrange an expedition to locate the elusive Goliathus Hercules with the hopes to also find his father.  At the same time, something is not natural with Henri's ability to communicate with insects, being attacked by a Venus Fly-trap or his changing appearance. Will they be successful in the search for the creature and Henri's father?
Fiction (fantasy, animals)                Beth McGuire, Wendover Middle School
Dahl, Michael.  The trouble with Abracadabra (Hocus Pocus Hotel series).  North Mankato, MN: Stone Arch Books, 2013.  978-1-4342-4102-3. 104p.  $23.99.  Grades 3-5.Abracadabra is a famous magician who owns a hotel for other magic lovers, though he poses as a humble elevator operator named Brack.  He has made friends with two young boys who know his secret and often help him out of tough problems with their brains and a little magic.  All their skills are needed when a powerful and harsh magician named Theopolis challenges Abracadabra to replicate one of his tricks or lose the rights to the hotel.  Can the team solve the mystery and save the hotel so that Brack can retire happily?  Read and see – Presto!  Recommended for mystery and magic lovers of all ages.
Fiction; Mystery and Magic    Dustin Brackbill State College Area School District
Jennings, Patrick.  Odd Weird & Little.  New York: Egmont, 2014.  978-1-600684-374-1. 149p.  $15.99. Gr 2-4
Another great book by Patrick Jennings and it is sure to stimulate discussion on friendship, bullies and school behavior.  Toulouse is a new student; he is small, dresses like a grandpa, carriers a briefcase and doesn't speak English.  He is an instant target for the bullies in the school, but a great friend for one of their past targets.  When he speaks it is insightful, his actions thoughtful and he doesn't let others get under his skin, or feathers.  It is amazing that no one notices he is an owl.  Toulouse is an endearing character that changes the lives of those around him.  This is a great read aloud to assist with discussion in the classroom regarding bullies, and a book that stays with you long after you are finished reading it.
Fiction                            Denise Naumann, Eisenhower Elementary