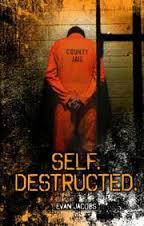 Jacobs, Evan. Self. Destructed. Costa Mesa: Saddleback, 2014. Print. 978-1-489-82159-1. 254 p. $14.99. Gr. 8 and up.
The price of love is often the most expensive.  This is true in Michael's case.  Struggling with his self-esteem and the negative thoughts that find their way into his mind, Michael meets Ashley, a young girl from an affluent family who takes interest in his life.  Intrigued by Michael, they begin to casually date and get to know each other. Michael begins to show his true self to Ashley.  Borderline mentally unstable, Michael talks himself into negative thoughts and pulls Ashley into his spiral. After Ashley recognizes his behavior as unhealthy, she distances herself which sends Michael into depression. Without a stable family structure and an engaged male role model, he makes one bad choice that jeopardizes his future. This high interest, low level novel breaks into the mind of a troubled kid who feels unloved.  Readers will sympathize with his inability to conquer his inner demons and success in recognizing his limits.
Realistic fiction       Brooke Gerlach, Manheim Central MS
Educators can engage both male and female students with this novel.  Its low level writing makes for easy reading.  Having the main character engage in behavior that is characteristic of loners, readers can gain insight into the mental working of students on the fringe of social norms. While Michael, the main character, deals with family issues, he struggles socially, making irrational decisions and is often judged and excluded because of them. Counselors can utilize the situations in the book as scenarios in which students can choose to make better choices. Because of school violence, this novel should be reserved for upper grades (8-12).