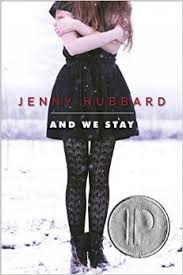 Hubbard, Jenny. And We Stay. New York:  Delacorte Press, 2014. 978- 0385740579.  240p. $16.99. Gr. 9-12.
Emily Beam is now attending a private boarding school in Massachusetts after the suicide of her boyfriend and the abortion of their baby. As she learns to accept what has happened to her, she discovers Emily Dickinson lived just blocks away from her school. As she begins to process her feelings, she finds herself bursting with poems, and the author uses these poems to let us into the unsettled psyche of a very perceptive and gifted girl as she copes with her past to move forward into her future. This book was honored with starred reviews from SLJ and Kirkus, and is a Michael L. Printz Honor Award Winner. Have Emily Dickinson's poetry on hand as this book is sure to spark more interest!
Realistic Fiction     Marian Kohan, Erie School District
Niven, Jennifer. All the Bright Places. New York:  Knopf Books for Young Readers, 2015.  978-0385755887. 400p. $17.99. Gr. 10-12.
Seniors Theodore Finch "the freak" and Violet Markey "the cheerleader" meet up on the school's bell tower ledge where both consider jumping. Theodore suffers from violent outbursts, and it is apparent from this first person alternating narrative that he does not fit in. Popular Violet is still reeling from the death of her older sister in a car accident which she survived. Together they form an unlikely relationship that is highlighted by a class project, where they are partnered, to discover the interesting sights of their state. Through their exploration, Finch and Violet begin to fall in love and try to help each other out of the depressive state they are both in so they can move towards graduation and their future. This book was honored with starred reviews from SLJ, Kirkus, and Publisher's Weekly.
Realistic Fiction     Marian Kohan, Erie School District