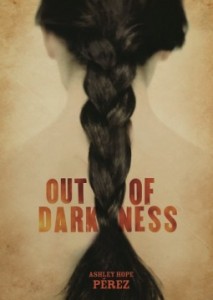 Perez, Ashley Hope. Out of Darkness. Minneapolis, MN: Carolrhoda Lab, 2015. 9781467742023. 408p. $18.99. Grades 8 to 12.
"This is East Texas, and there's lines. Lines you cross, lines you don't cross. That clear?"
Naomi learns this rule quickly when she moves to East Texas in 1937 with her younger siblings to live with her step-father. With the recent death of her mother, Naomi struggles to find her place in her new family. She is Hispanic, but her stepfather and siblings are white. In a very segregated community, Naomi faces discrimination at every turn, in school, at the store, and even at church. She finds a friend, and eventually love, in Wash, a black teen who understands discrimination and racism all too well. Their secret relationship is found out in the explosive conclusion of the story.
The author based this book on the true events that happened at the New London School in 1937, in which almost 300 students died in a natural gas explosion. Although I found this book to be poignant and beautiful, it was also very difficult to read. There were points in the story that I had to skim past because they were so dark and ugly. Perez takes on difficult issues such as incest and rape, lynch mobs, miscarriage, and brutal racism. She does it in a way that makes the story very real and very emotional to read. I recommend this book for advanced readers, but with caution. This is a tough book to read and is was very emotional to the last page.
Historical Fiction     Corey Hall, Elizabethtown Area MS/HS