Rossi, Sophia. A Tale of Two Besties (a Hello Giggles novel). New York: Razorbill, 2015.  978-1-595148-056. 320p. $17.99. Gr. 7-10.
Harper and Lily have been best friends since elementary school; nothing comes between them. There's never any doubt that they are besties and will be forever.  This is the exact reason they make a pact, to never change to please someone else, on the eve of freshmen year.  Lily is heading to Pathways, the super creative private high school where the children of famous musicians, actors, and artists all attend, while Harper is attending the local public high school.  Things get rocky for once-super popular Harper at Beverly Hills High, and it's even harder without her BFF by her side.  Meanwhile Lily is the new freshmen sensation at her new high school where she gets wrapped up in her new extracurriculars, especially in namaste led by Pathways diva, Nicole, and forgets to be there for Harper.
This is a really cute story that will appeal to tween girls especially those making the leap to high school soon.  The characters are both 13 and entering 9th grade which I find a little unrealistic.  It's hard to believe that the two are as mature as they are when they are still 13.  
Realistic Fiction    Laura Ward, Fox Chapel Area HS  
Audio book information:
Rossi, Sophia. A Tale of Two Besties: A Hello Giggles Novel. Read by Anna Brisbin & Nora Hunter. New York: Listening Library, 2015.  978-1-101915-240. 8 hours $29.92. Gr. 7-10.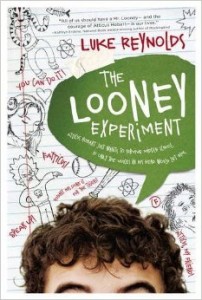 Reynolds, Luke.  The Looney Experiment.  Grand Rapids: Blink,  2015. 978-1-101915-240  $15.99. 208p. Gr. 7-9.
Everything in Atticus Hobart's life is lousy.  He can't get a hit in Little League; Danny Wills keeps calling him Fatticus, and to top it all off, his dad leaves his family.  Atticus thinks things can't get any worse until his English teacher goes on maternity leave, and the class is left with a teacher who is older than dirt.  How on Earth can kooky, old Mr. Looney teach his class anything!  Atticus soon finds out that Mr. Looney may be old, and very weird, but he teaches Atticus more than he ever imagined.  
While reading Harper Lee's best-selling novel, To Kill A Mockingbird, for English class, Atticus meets his namesake and finds the true meaning of courage.  Things with the class bully Danny get worse before they get better, but with a little help from Atticus Finch, Atticus Hobart finds the courage to stand up to his bully and help those he loves.  
Reynolds' debut middle grades novel is great for boys who are trying to find their way.  It seems a little preachy at times, but the message is clear: it takes courage to stand up and fight even when you know you can't win.  I would definitely put this in the hands of middle school boys who need to find a friend, even if it is in a book.  
Realistic Fiction    Laura Ward, Fox Chapel Area HS