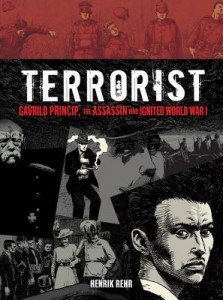 Rehr, Henrik.  Terrorist: Gavrilo Princip, the Assassin who Ignited World War I.  Minneapolis: Graphic Universe, 2015. 9781467772792. 225p.  $15.00. Gr. 9 and up.
Terrorist takes readers through a historical journey from 1863, leading up to World War I, and ending in 1918 when Gavrilo Princip died in prison partly from tuberculous and partly from maltreatment. Not many people know the causes for the Great War or even who key political figures were, but this dark and edgy graphic novel sets out to tell an often untold story.  Who was Gavrilo Princip, and what was his role?  Terrorist is a great way to introduce this side of World War I and give readers a deeper understanding of history.  Thoughts: This striking graphic novel entices history buffs to give a different genre of books a try while reeling in graphic novel enthusiasts.  I'm not really into graphic novels, but this one is a must for any collection.  It sheds a rich, and what I assume to be, historically accurate light on who killed Franz Ferdinand and why.  
Graphic Novel; 944    Laura Ward, Fox Chapel Area High School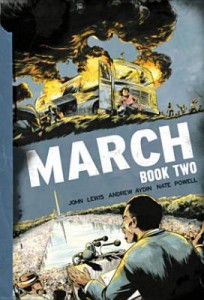 Lewis, John. March: Book 2. Marietta, GA: Top Shelf Productions, 2015. 978-0-606-36547-5. $19.95. Gr. 8-12.
In this second installment of the planned graphic novel trilogy, Congressman John Lewis continues his incredible, heroic narrative of the fight for equal rights during the Civil Rights movement. Now travelling all over the south in the early 1960s, Lewis and the Freedom Riders focus on non-violent protests, only to find themselves countered with increasing hostility and violence in their "quest for human decency" (16). Juxtaposed against the inauguration of the United State's first African-American President, Barack Obama, in 2009, almost 50 years later, Lewis recounts sit-ins, stand-ins, bus boycotts, and ultimately, the 1963 March on Washington. Many of these protests led to vicious, brutal attacks on the peaceful Riders, as well as jail time for many, including Dr. Martin Luther King Jr. The artwork by Nate Powell is particularly moving, adding incredible depth to John Lewis's compelling narrative while also humanizing many controversial political figures. THOUGHTS: Readers of all ages should pick up this novel as well as March: Book 1, and it should be required reading for all history classes teaching about the Civil Rights movement.
323.1 Civil Rights; Graphic Novel    Vicki Schwoebel, Friends' Central School