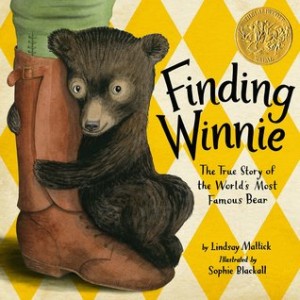 Mattick, Lindsay. Finding Winnie: The True Story of the World's Most Famous Bear. New York: Little, Brown and Company, 2015. 978-0-316-32490-8. Unpaged. $18.00. Gr. K-3.
While Winnie-the-Pooh may be the world's most famous bear, few people know that the beloved character is based on a real bear. Winnie's tale begins with author Lindsay Mattick's great-grandfather Harry Colebourn, a veterinarian travelling through Canada on his way to serve in World War I. When Harry sees a trapper and bear cub at a train station he knows that he shouldn't get involved, but his "heart made up his mind," and he buys the cub. Winnie's extraordinary adventures with Harry begin as she (yes, she!) travels to a military camp in Canada, then on to England where she serves as the mascot for the Second Canadian Infantry Brigade. When Harry is called to duty on the front lines in France, he knows he must leave Winnie behind in a safe place, and she begins a new life at the London Zoo. She makes friends with zoo visitor Christopher Robin Milne and his author father, who writes stories about Christopher Robin and bear, Winnie-the-Pooh's adventures. THOUGHTS: Children are amazed to learn about the real Winnie and how her life inspired the classic character so many of us hold dear to our hearts.
This year's Randolph Caldecott Award winner will not disappoint. Sophie Blackall's artwork is beautiful, vivid, and captures the spirit of Winnie's relationships well, but it's Mattick's story that's the real stand-out. She tells the story as a mother telling a family-based bedtime story to her son Cole. At the end of the story readers are able to see real photographs of Winnie's life in the "album" that mother and son view during the story. I shared this story with many age groups at the elementary level and they all loved it. It's a winner.
Picture Book           Lindsey Long, Nye & Conewago Elementary Schools