Smith, Lane. A Perfect Day. Roaring Brook Press, 2017. 978-1-62672-536-2. 32pp. $17.99. Gr K-3.
It's a bright summer morning, and the animals are relaxing, enjoying a perfect day in Bert's backyard. Cat is appreciating the warm sun and the colorful flowers; Dog is relaxing in the pool's cool water; Chickadee is nibbling seeds from the freshly-filled birdfeeder, and Squirrel is snacking on a corncob. Everyone is having a perfect day….until Bear shows up. He lumbers into the yard snagging frightened Squirrel's corncob. He also tips over Chickadee's feeder, dumps Dog's pool water all over himself, and rolls around in Cat's flowerbed. Then, Bear, feeling refreshed by the water and having a full belly from the seeds and corn, settles himself into the flowerbed for a nap in the sun, making it a perfect day for Bear. Smith's oversized textured-surface paintings perfectly complement the story's brief text and capture each animal's surprise at being interrupted by Bear. Young readers will laugh at how quickly the mood shifts and will enjoy seeing Bert, Cat, Dog, Chickadee, and Squirrel all warily giving Bear plenty of space on the book's final page.  THOUGHTS: This book is perfect for teaching point-of-view since each animal's idea about how the day is going shifts so dramatically as the story progresses. Smith's use of repetition also ensures even the youngest readers will be able to fully appreciate how Bear's arrival affects everyone.
Picture Book     Anne Bozievich, Southern York County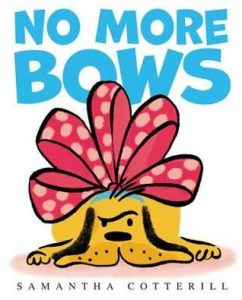 Cotterill, Samantha. No More Bows. Harper, 2017. 978-0-06-240870-9. 32pp. 17.99. Gr K-2.
Hugo is a large yellow dog who patiently endures playing house, tea party, and dress-up with Milly all morning, knowing that his favorite part of the day, going for a walk, is coming soon. He fetches his leash and races to the door but stops short when Milly presents him with a large, red bow to wear during their outing. Hugo isn't amused and wrestles the bow off as soon as he can. The next day, Milly has an even bigger, frillier bow for him. Hugo manages to bury this one in the dirt, but it's the same thing every day; the bows get more sparkly, and Hugo gets more upset until he resolves that there will be no more bows! Hugo runs away to the city but misses Milly almost immediately. After noticing a happy girl and a happy bowtie-wearing dog, Hugo races home to Milly, then drags her to the pet store to show her the kind of bow he really wants. The next day, Hugo proudly debuts his new bow (and his new smile) on their walk together. Young readers will pore over this book's vibrant digital illustrations, savoring details such as Hugo's painted red toenails and his expressive face. THOUGHTS: This book is a perfect addition to a dog-themed storytime, and it also lends itself to discussions about the compromises friends must sometimes make. Additionally, it could be used to teach point of view since Milly and Hugo each have very different opinions about wearing bows.
Picture Book      Anne Bozievich, Southern York County