Uwiringiyimana, Sandra, and Abigail Pesta. How Dare the Sun Rise: Memoirs of a War Child. Katherine Tegen Books, 2017. 978-0-06-247014-0. 288 pp. $19.99. Gr. 9 and up.
This excellent memoir relates how one "war child" went from stateless refugee to leading activist. Growing up in the Democratic Republic of Congo, Sandra Uwiringiyimana enjoyed a happy childhood in a large, loving family. Her parents strongly valued education and envisioned a life for their daughters beyond an arranged marriage; her siblings were both her playmates and protectors. However, the possibility of war was a constant cloud on the horizon. When she was ten, Sandra's family fled to a refugee camp in Burundi that was attacked by a rebel militia. With a gun to her head, Sandra said goodbye to life, but the rebel spared her and she escaped into the darkness. Miraculously, after the massacre she reunited with some of her family, and together they began a journey that would ultimately bring them to Rochester, New York. Sandra's challenges continued as she learned to navigate American culture, race relations, and her flashbacks to the Gatumba massacre. Sandra's passion for education and human rights have driven both her activism and her quest to heal from the trauma she suffered. THOUGHTS: Sandra Uwiringiyimana has written a moving account of her harrowing years as a child of war, and the strength and support she found to rebuild her life. It stands alongside other standout titles such as Bite of the Mango by Mariatu Kamara, Every Falling Star by Sungju Lee, and A Long Way Gone by Ishmael Beah.
In her closing Information and Resources section, the author highlights three organizations:
Jimbere Fund, whose mission is to revitalize distressed communities in rural Congo (

www.Jimberefund.org

)

The Maman Shujaa, a women's movement for peace, women's rights, rights of the indigenous, and nature (

www.HeroWomenRising.org

)

RefugePoint (

www.RefugePoint.org

) helps refugees in life-threatening situations find safety and rebuild their lives
92, Autobiography    Amy V. Pickett, Ridley SD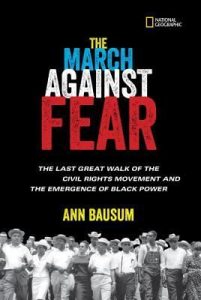 Bausum, Ann. The March Against Fear. National Geographic, 2017. 978-1-4263-2666-0. $19.99. 144p. Gr. 7 and up.
The March Against Fear is the story of the last great, but sometimes forgotten, civil rights march. James Meredith was one of the first wave of recruits into the newly integrated Air Force, and he was the first African American to successfully integrate the University of Mississippi. It was that courage and determination that gave him the idea of marching across his home state of Mississippi to encourage African Americans to register to vote. A year earlier the Voting Rights Act of 1965 was passed but still a majority of African Americans had not registered to vote. Meredith thought that fear of retaliation was holding people back from registering, and this Walk Against Fear would be the thing to inspire them to register. On the second day of the march Meredith was shot. Fortunately, he didn't die, but with the shooting his walk turned into a march and his cause was taken up by civil rights leaders like Martin Luther King, Jr., and Stokely Carmichael. This march and the violent confrontations that the people who took part in it endured pitted King's nonviolent response with Carmichael's demand for "black power." Following the march, all across the country there was growing unrest and frustration with racism and protests were held in at least 20 major cities. The media focused on what they thought was Carmichael's call to violence and "black power" became the legacy of the March Against Fear.  THOUGHTS: Ann Bausum spoke to our students in support of the publication of this book. Our students and some teachers were mesmerized by this bit of history that they had never heard of. This book has powerful quotes and engaging photographs on solid black backgrounds that make it a pleasure to read. It would be an excellent book to use for Social Studies book clubs at the 7th through 9th grade level.
323.1196; Civil Rights      Bridget Fox, Central Bucks SD
Ciponte, Andrea Grosso and Dacia Palmerino.  Renegade: Martin Luther, The Graphic Biography. Plough Publishing House, 2017.  9780874862072. 160 p. $19.95. Gr. 8 and up.
Beautifully illustrated and well researched, this graphic novel follows the life of Martin Luther, the man who challenged the Catholic Church and inspired the Protestant Revolution. It is a fast read that captures the tumultuous times in Germany at the beginning of the 16th century, a time of poverty, plague and suffering. Martin was the son of hard working, strictly religious family. He excelled in school and was granted the opportunity to study at the University in Erfurt with the hopes of becoming a lawyer and improving his family's lot. When caught in a violent storm, Martin has an epiphany which brings him to the church. Obsessed with salvation and faith he pores over the scriptures as he seeks to reconcile his growing doubts with the practices of the Holy Catholic Church. His major complaints against the Church over the sale of indulgences and the true meaning of faith and grace lead him to post the infamous 95 Theses on the door of the Cathedral. The novel presents Luther's reasoning on the questions of faith, his friends and foes in his struggle to clarify his theology, and his efforts to bring the word of God closer to the people of Germany.  The good the bad and the ugly of Luther's life is exposed, including his end of life tirades against Jews, Anabaptists and the peasants of Germany.  Ciponte's drawings are gorgeous and colorful – evocative of some of the great masterpieces of the Renaissance.  THOUGHTS: Could be used as a companion text for students of world history to bring this revolutionary time period to life. Having a degree of background knowledge would help the reader understand the events in this retelling.
92, Graphic Biography               Nancy Summers, Abington SD
Hesse, Monica. American Fire: Love, Arson, and Life in a Vanishing Land. Liveright Publishing Corporation, 2017. 978-1-63149-051-4. 255 pp. $26.95. Gr. 10+.
Monica Hesse, author of the excellent young adult WWII mystery Girl in the Blue Coat, returns with a compulsively readable true crime case study. In American Fire: Love, Arson, and Life in a Vanishing Land, Hesse relates the story of Accomack County, part of Virginia's Eastern Shore peninsula, where dozens of abandoned buildings were set ablaze in 2012 and 2013. The story hinges less on whodunnit (the arsonists are already serving time) than why-dunnit. American Fire's subtitle teases the answer, which Hesse reveals through depictions of the county's cultural history, the crime of arson itself, the painstaking efforts of law enforcement, and an intense but ill-fated love story. THOUGHTS: American Fire is narrative nonfiction at its best. Written for adults, it's also a perfect choice for teens who are listeners of the S-Town podcast, readers of David Grann's Killers of the Flower Moon, or simply enjoy puzzling out a seemingly random crime spree. One gripe: an Eastern Shore map would have been helpful! Hopefully one will be included when the paperback edition is released.
364.16; Crime     Amy V. Pickett, Ridley SD