Rubin, Elycia. No Biggy! A Story About Overcoming Everyday Obstacles. Rodale Kids, 2018. 978-1-63565-048-8. Unpaged. $16.00. Gr. PreK-2.  
I bought this book for my preschool-aged daughter and liked it so much that it's now on my school shelves, too! Like any child, Kiki gets frustrated when things don't go her way. Her toothpaste falls off her brush, it starts to rain when she's playing outside, and she has a tough time schmearing her bagel. Kiki's parents help her understand that frustration is a normal feeling and that when she feels like stomping her feet and crossing her arms, a deep breath and "No biggy!" will help her refocus. She uses her strategy well and even helps her parents with a "No biggy!" when family dog Pozey gets bubbles all over the bathroom. Bright colors and friendly-faced Kiki and Pozey will keep readers attention.
THOUGHTS: A great story for one-on-one sharing with any child who can use a little help managing her frustrating moments.  
Picture Book          Lindsey Long, Lower Dauphin SD
---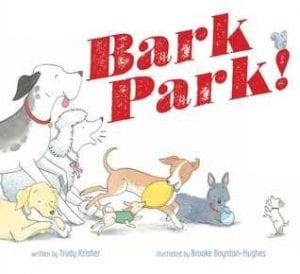 Krisher, Trudy. Bark Park! Beach Lane Books, 2018. 978-1-4814-3075-3. Unpaged. $17.99. Gr. PreK-2.
Enjoy a day in the life of a park-going dog. Excitement abound as dogs of different sizes and breeds visit a dog park with their families to frolic, play together, and maybe get a little dirty. After a fun day, dogs return home for a much-needed drink and nap. This simple story told in short, rhyming verses is light-hearted enjoyment for all dog lovers. Brooke Boynton-Hughes' illustrations are a perfect match for the text.
THOUGHTS: A loveable read for dog folks of all ages.
Picture Book          Lindsey Long, Lower Dauphin SD
---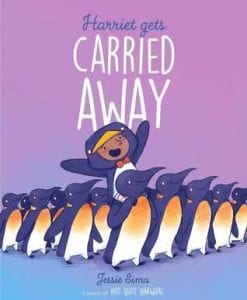 Sima, Jessie. Harriet Gets Carried Away. Simon & Schuster Books for Young Readers, 2018. 978-1-4814-6911-1. Unpaged. $17.99. Gr. PreK-2.
Harriet, lover of costumes and full of freckles and imagination, dons a favorite penguin costume to visit the store with her dads for birthday party supplies. When she wanders into the frozen foods aisle she encounters some friendly penguins and follows them out of the store, into the park, and on a hot air balloon back to penguin territory. While she's having a lovely time, Harriet realizes that she needs to get back to the store and enlists the help of an orca and some bird friends to help her return to the deli counter and meet her dads in time to get home for her party. Jessie Sima's books are delightful, just like Harriet herself, and young readers and listeners will love travelling along on Harriet's adventure.
THOUGHTS: Another great read aloud full of diversity and fun from Sima.
Picture Book          Lindsey Long, Lower Dauphin SD
---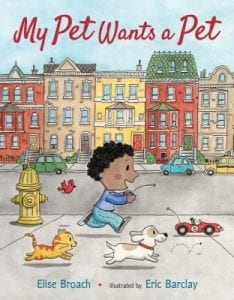 Broach, Elise. My Pet Wants a Pet. Henry Holt and Company, 2018. 978-1-250-10927-9. Unpaged. $16.99. Gr. PreK-2.
A young boy begs his mother for a pet and loves his new role as puppy caregiver. He and the puppy get along so well, in fact, that the puppy decides it would be nice to have a pet of his own. The puppy's new kitten is adorable and fun, and of course their relationship prompts the kitten to decide that a pet of her own would be nice…and so goes the comedic loop of the story. When will it end? The young boy realizes his mother, unhappy to be running a small zoo, needs something of her own to love and care for because that will bring her happiness. He, of course, offers himself.
THOUGHTS: A sweet family story for animal lovers.
Picture Book          Lindsey Long, Lower Dauphin SD
---
Underwood, Deborah. Monster and Mouse Go Camping. Houghton Mifflin Harcourt, 2018. 978-0-544-64832-6. 32 p. $17.99. Gr K-3.
When Mouse suggests going on a camping trip, her friend Monster isn't so sure. Mouse describes all the fun they'll have walking in the woods, sleeping in tents, and telling spooky stories, but only when Mouse mentions that there will be yummy food to eat does Monster decide to give camping a try. The pair load their wagon with sleeping bags, a tent, and a lamp before setting off on their adventure. Once they reach the woods, Mouse scampers ahead to check out a stream, and Monster eats the lantern for a snack. Later, when Mouse scouts out a promising trail, Monster snacks on the sleeping bags. And finally, when Mouse goes to claim the perfect spot at the top of a hill, Monster eats the tent. Only when they try to pitch camp do they realize all of their supplies are gone. Even though it's dark, cold, and they're hungry, the pair take heart when they spot a glow in the distance. They encounter a family gathered around a campfire telling spooky stories. The sight of a huge, furry monster sends them screaming for their car, leaving Mouse and Monster with a perfect campsite, complete with tents, a fire, and marshmallows for roasting. The bright digital illustrations pop against uncluttered backgrounds, and the characters convey a lot of emotion, particularly with their wide round eyes.
THOUGHTS: This outdoor adventure will be a hit with young readers, especially ones who have been on camping trips themselves. It will also be a perfect addition to monster-themed storytimes that feature friendly, not scary, monsters.
Picture Book          Anne Bozievich, Southern York County SD
---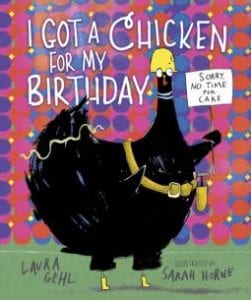 Gehl, Laura. I Got a Chicken for My Birthday. Carolrhoda Books, 2018: ISBN 978-1-512-43130-8. 32 p. $17.99. Gr K-3.
When Ana's birthday present from Abuela Lola arrives, she is initially disappointed to see that the box contains a chicken. What she really wanted was tickets to the amusement park, but she decides to be optimistic about the unexpected gift. It soon becomes obvious, however, that Ana has received an unusual chicken. Her chicken doesn't have time to eat, doesn't have time to lay eggs, and presents her with a long shopping list for items such as steel girders, ball bearings, a winch, tiny hammers, and more. It's clear the chicken has a plan, and after recruiting help from Ana's dog, cat, hamster, and a few other animals, the chicken designs and builds an entire amusement park! Ana's initial skepticism is replaced with awe as she exclaims that the chicken is a genius. (And maybe Abuela Lola isn't so quirky after all!) Pen and ink illustrations boldly accented with textured computer details capture the lively, playful vibe of this story, and readers will have fun pouring over the illustrations, noting small details such as the hamster powering the ferris wheel and the chicken brainstorming its next construction project.
THOUGHTS: Since it showcases brainstorming, designing, and construction, this title could be a fun addition to STEM-themed storytimes, and as an extension activity, teachers could challenge students to design their own amusement park or ride.

Picture Book          Anne Bozievich, Southern York County SD