Bertagna, Julie, and William Goldsmith, Illustrator. Wildheart: The Daring Adventures of John Muir. Yosemite Conservancy, 2019. 978-1-930-23893-0. 128 p. $17.99. Grades 4-7.
As a boy in Dunbar, Scotland, John Muir was sent to school in 1841 when he was just three years old, but he longed to be outside, playing and learning amongst the wild things that he loved. Years later, after a family move to Wisconsin, an eye injury nearly robbed John of his sight but inspired his true calling: exploring and preserving nature. As part of his campaign to protect America's forests and natural features, he co-founded the Sierra Club and helped to create our National Parks. He also went camping with President Theodore Roosevelt in Yosemite for four days in 1903, inspiring "Teddy" to preserve 148 million acres of land! William Goldsmith's rough, energetic sketches are appropriately tinted in natural shades of rust, moss green, berry, and ice-blue. The characters' body postures imply the mood and action more distinctly than any detailed facial expressions (which are generally lacking). A handful of Scottish expressions may confuse readers (e.g., "Ta" for thanks) but ample context clues and a helpful Glossary will assist in deciphering them. 
THOUGHTS: This middle-grade graphic biography of the first modern environmentalist, told in a first-person voice, will inspire readers to cherish our precious planet, and to take action to protect it! John Muir's legacy is a treasured reminder that "We are part of nature, and its wild heart is part of us." Additional information for interested readers is available at the webpage for the John Muir National Historic Site. 
Graphic Novel / Biography          Amy V. Pickett, Ridley SD
---
Engle, Margarita. Soaring Earth. Atheneum Books for Young Readers, 2019. 978-1-534-42953-6. $18.99. 192 p. Grades 7+.
Margarita's idealism and longing to see the world are described beautifully in verse in this companion memoir to Enchanted Air. In this book Margarita is now a young adult in high school and beyond. It is set during the tumultuous Vietnam War Era, and the war and protests, Civil Rights movement, moon landing, and the Grape boycott and strike are described. Although younger readers might not have the knowledge to fully appreciate those historic events, Margarita's struggle with fitting in and finding out who she is will resonate with everyone. Margarita finds herself at ground-zero of the hippie/free speech movement when she enrolls at UC Berkeley for college. She struggles with her fears of not being perfect, especially with her writing, and she finds out that the prestigious university turns out not to be a great fit for her which leads to her dropping out and drifting around CA and NY on a path of self-discovery. Her longing to travel the world, especially her beloved Cuba, which has been closed to her due to the Cold War, and the prejudices she experiences due to her Cuban heritage are also examined. Margarita Engle is the 2017-2019 Young People's Poet Laureate.
THOUGHTS: It isn't necessary to have read Enchanted Air to appreciate this beautifully written novel in verse. It would be perfect to use for a social studies book club during a 1960s unit.
Memoir; Verse          Bridget Fox, Central Bucks SD
---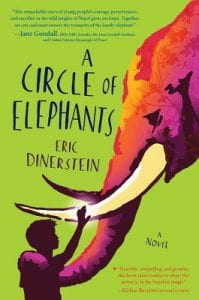 Dinerstein, Eric. A Circle of Elephants. Disney Hyperion, 2019. 978-1-368-01658-2. $16.99. 260 p. Grades 4-8.
13-year old Nandu, a Tibetan, was found as a two-year old orphaned in the jungle being guarded by a pack of dhole (a type of wild dog). He was adopted by Subba-Sahib, the good man who runs the Royal Elephant Breeding Center at the edge of the Borderlands in Nepal. Nandu has a special relationship and empathy with the animals of the jungle but he considers the tusker, Hira Prishad, the bull elephant he oversees, his brother. The story of Nandu and the horrors of the Ivory Trade is described in such a beautiful and realistic way that it is easy to forget that this is a work of fiction. The earthquake at the beginning of the book is a bad omen: the harbinger of drought and the return of Maroons (poachers) who are looking for ivory in the tusks and horns of the elephants and rhinos. In addition to the mutilation of animals for their ivory, there is a side story about young girls being sold into slavery (it is not explicit sex slavery, but it is implied) which may be difficult for younger middle grade readers. The book examines the relationship between humans and other animals and as Nandu believes "that our purpose in life is to look out for each other."
THOUGHTS: This book will enlighten the reader about the evils of poaching and how it is possible for people to have meaningful relationships with animals, especially elephants. A Circle of Elephants is the sequel to What Elephants Know but it wasn't necessary to have read that story to enjoy this book. This beautifully written story would be a great addition to any library.
Realistic Fiction          Bridget Fox, Central Bucks SD
---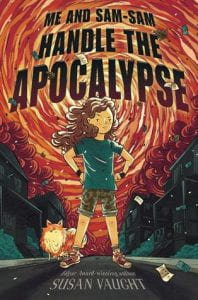 Vaught, Susan.  Me and Sam-Sam Handle the Apocalypse. Simon & Schuster Books for Young Readers, 2019. 978-1-534-42501-9. 309 p. $17.99. Grades 5 and up.
Jesse is not like the other kids in her middle school – she's extremely temperamental, with a proclivity towards hitting people she dislikes; she doesn't always bathe on a regular basis; she's "on the spectrum"; and her mother is a Master Sergeant stationed overseas in Iraq. Needless to say, she's not the most popular girl in school, which doesn't bother her in the least. What does bother her, however, is the group of bullies – Rykyer (aka: Jerkface), Chris, and Trisha (aka: the cockroaches) – who harass her on a daily basis and never seem to get in trouble for it. When Jesse's father, a teacher at the high school, is arrested and accused of stealing money for the library fund, Jesse, along with new kid, Springer, take it upon themselves to investigate. Springer is Jesse's foil – a big, non-confrontational, soft-spoken boy who doesn't believe in violence. They share a love of puzzles, outside the box thinking, and Sam-Sam, Jesse's beloved Pomeranian. Jesse pushes Springer to fight for what he believes in, and Springer grounds Jesse when she goes into a panic spiral; in fact, he's one of the only people in her life that truly seems to accept her exactly as she is. Vaught has created two very different, yet equally compelling, protagonists; it is easy to feel Jesse's anger and frustration towards her bullies, as well as Springer's kindness and compassion when he stands up for Jesse. Equally well-drawn are Jesse's mother, who instills in Jesse a deep well of inner strength, and Jesse's great-aunt Gus, who spends the majority of the book exasperating Jesse's father. Though Jesse's bullies come off more as caricatures than three-dimensional characters, and their antics become disturbingly malevolent in tone and action, they serve to further Jesse and Springer's resolve, as well as their bond; their friendship is truly the grounding force in this middle-grade novel, and readers will find themselves rooting heartily for both of them.
THOUGHTS: A perfect novel for outside the box thinkers, lovers of mysteries, and literally kick-butt female protagonists. With absolutely no romance, and a beautifully crafted platonic friendship between members of the opposite sex, this is a book that you can comfortably hand to a 9 year old, as well as a 14 year old.
Realistic Fiction         Lauren Friedman-Way, The Baldwin School
---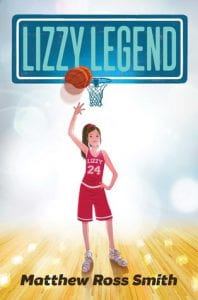 Smith, Matthew Ross. Lizzy Legend. Aladdin, 2019. 978-1-534-42024-3. 236 p. $17.99. Grades 4-7.
13-year-old Lizzy Trudeaux loves basketball and spends hours each day practicing her ball-handling and shooting skills. One day, she receives a mysterious phone call from a robot asking her what her wish is, and she wishes to never miss another shot. When this dream surprisingly comes true, she finds herself signing a contract to play for the Philadelphia Bells, a nearby professional basketball team. It's not long before she becomes a media sensation. Will she, however, be able to continue her dominant performance when her wish is reversed? A fast-paced sports fantasy, this title will resonate particularly with young female athletes.
THOUGHTS: While the premise of this story is a bit unbelievable, the relatable characters, encouraging message, and fast pace of the story make this a solid selection for middle school collections. Lizzy may have gotten to where she is with a little help from her wish, but she is an extremely hard worker regardless. She's also tough and courageous, putting her heart and soul out on the court even after her wish is reversed. Lizzy is definitely a role model for young girls, showing that with a little hard work and determination, they can do anything they set their minds to. The short chapters are broken up by interviews and imaginative social media posts throughout the story, making the book very accessible to young readers.
Fantasy Fiction (Sports)           Julie Ritter, PSLA

---
Woods, Brenda. The Unsung Hero of Birdsong, USA. Nancy Paulsen Books, 2019. 978-1-524-73709-2. 194 p. $16.99. Grades 5-8.
Twelve-year-old Gabriel Haberlin, white resident of the small, post-WWII town of Birdsong, South Carolina, is ecstatic when he receives a brand new Schwinn bicycle for his birthday. On his very first ride, however, he runs a red light and is nearly struck by a car and killed. Luckily, Meriwether Hunter, an African American veteran, pushes him out of the way just in time. Feeling indebted to Meriwether, Gabriel convinces his father to offer Meriwether a job at his auto shop. The two soon become friends, and Meriwether teaches Gabriel to view the world through the eyes of others.  In doing so, Gabriel witnesses the unfairness and powerlessness experienced by African Americans living under Jim Crow laws in the segregated South, and for the first time in his life, he begins to question the way of the world. A realistic and thought-provoking coming-of-age story, this book has a lot to teach young readers about the post-WWII South.
THOUGHTS: Use this book in a history class to reinforce topics like segregation,  Jim Crow laws, the 761st Tank Battalion, and the KKK. History buffs will also enjoy simply comparing post-WWII life to life today, as there are plenty of references to prized possessions of the past, including a Buick Roadmaster and a Kodak camera with film. Additionally, this story will appeal to fans of Rita Williams-Garcia. Definitely consider purchasing this authentic, eye-opening work of historical fiction.
Historical Fiction          Julie Ritter, PSLA
---
Ross, Susan L. Searching for Lottie. Holiday House, 2019. 978-0-823-44166-2. 170 p. $17.99. Grades 4-7.
When twelve-year-old Charlie must research a family member for a school project, she decides to focus on her namesake, her great aunt Lottie (short for Charlotte). Lottie disappeared during the Holocaust, and because she was Jewish, her family presumes that she was killed. Through her research, Charlie discovers that she and Lottie have a lot in common. They are both sensational violin players, and they could both be described as brave and determined. The more she learns, the more adamant she is to figure out what exactly happened to Lottie. Did she perish during the Holocaust as her family always thought, or did she miraculously survive? Readers will be just as curious as Charlie to solve this puzzle and won't be able to stop turning the pages until all of their questions are answered.
THOUGHTS: This is a wonderful selection for middle school readers.  Charlie is an extremely relatable character who experiences many young adolescent norms throughout the story, including sibling rivalry, close friendships, a crush on a boy, and nerves during a musical audition. This would be a great complement to any Holocaust unit, or it could be used to introduce a project on genealogical research. References to Jewish culture present even more opportunities for learning. The short chapters and fast-moving narrative make it easily accessible, and the level of suspense will most certainly make readers want to finish the book. Give this to mystery lovers, history buffs, or students who want to learn more about genealogical research or Jewish culture.
Historical Fiction          Julie Ritter, PSLA