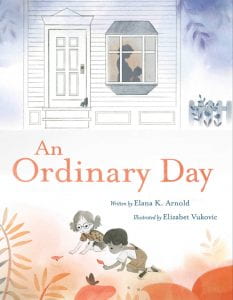 Arnold, Elana K. An Ordinary Day. Beach Lane Books, 2020. 978-1-481-47262-3. Unpaged. $17.99. Grades 1-3.

This is a poignant and beautiful tale of the circle of life.  The author begins by explaining that this street appears like any other, with children playing and a woman watering her flowers. Then, two cars drive up to neighboring houses and two people get out and go into adjacent houses. Both the man and the woman are wearing stethoscopes around their necks. The man enters a house where a dog is on a bed, surrounded by a family who is crying. The woman who enters the other house meets a family whose mother is expecting another child. The veterinarian consoles the family, as the dog is put to sleep, while the midwife or obstetrician helps deliver a new child into the world. All of this is told not so much in words, but through the illustrations. The characters in the story are of various ethnicities and the author writes that both families are "surrounded by family and love." Magnificent the Crow oversees the "extraordinary" activities on this ordinary street on an ordinary day. The Illustrator uses a variety of media, such as charcoal, watercolor, soft pastels, ink and graphite, to create a soft and muted color palette. These drawings add to the contemplative tone of the story.
THOUGHTS: This is a touching story that will appeal to a sensitive reader who may have experienced the loss of an animal.
Picture Book          Denise Medwick, Retired, PSLA Member