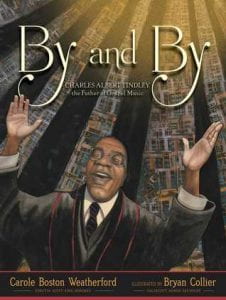 Weatherford, Carole Boston. By and By: Charles Albert Tindley, the Father of Gospel Music. Atheneum Books for Young Readers, 2020. 978-1-534-42636-8. 32 p. $17.99. Grades K-2
By and By is a picture book biography that tells the story of Charles Albert Tindley who is considered "the founding father of gospel music." This biography is told in verse, which adds a lyrical, musical quality to the book. The illustrator of this book is Bryan Collier, a Caldecott Honor recipient, and the illustrations are magnificent! This is the type of book that requires more than one read through, just to take in the different parts of the illustrations. At the end of the book, there are author's notes, as well as an illustrator note which includes hints about the illustrations which would be great to share with students after you read the story. There is a bibliography and a resource page included. Overall, this is a beautifully written and illustrated picture book biography which would be a great addition to a biography collection.
THOUGHTS: I loved this picture book biography! I learned so much about Charles Albert Tindley, who I had honestly never heard of before I read this. Highly recommended!
Picture Book          Mary Hyson, Lehigh Valley Charter Academy
Biography