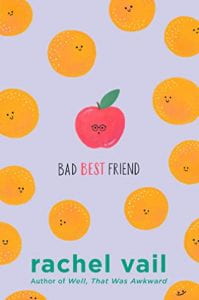 Vail, Rachel. Bad Best Friend. Viking, 2020. 978-0-451-47945-7. 301 p. $15.67. Grades 5-8.
"Everybody stand next to your best friend!" Piece of cake for Niki. She's already standing next to her best friend, Ava. But then Ava chooses Britney, and from that moment on, eighth grade is not at all how Niki expected it to be. If Ava is now part of "The Squad," where does that leave Niki? Told in the first person from Niki's perspective, the reader follows along as Niki tries to understand what she did to lose her best friend, discovers her own personality without Ava, finds new friends, and navigates a difficult situation at home with her brother, Danny. When Niki deals with an unwanted kiss at a party, this book goes in a direction that is unexpected but not out of place. Vail honestly tackles sexual harassment from multiple perspectives. 
THOUGHTS: Middle school students, especially girls, will understand the drama that occurs when one person decides to end a friendship. Niki's situation is universal, and many readers will sympathize with her and cheer her on as she finds her own way.  
Realistic Fiction          Melissa Johnston, North Allegheny SD