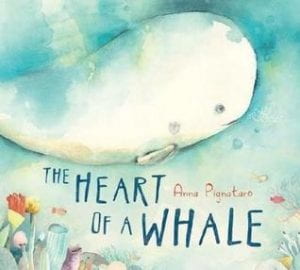 Pignataro, Anna. The Heart of a Whale. Philomel Books, 2020. $17.99. 978-1-984-83627-4. 32 p. Grades K-3. 
Whale has a beautiful song that soothes, cheers and calms all of the animals in the ocean. Even though whale's song brings joy and love to many he was lonesome, noticing "how there was no song big enough to fill his empty heart." One day, the whale is so forlorn he lets out a sigh that is carried by the ocean to another whale who travels far and wide to accompany him. United, the whales sing in unison "of happiness and hope, magic and wonder." Brief text accompanied by soothing watercolor illustrations of marine animals cover each spread. 
THOUGHTS: A good picture book to begin a conversation with students about loneliness, kindness and friendships. Detailed illustrations alongside a musical theme offer STEAM connections to music and marine life units. 
Picture Book         Jackie Fulton, Mt. Lebanon SD