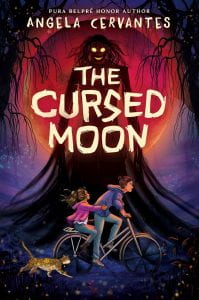 Cervantes, Angela. The Cursed Moon. Scholastic Press, 2023. 978-1-338-81401-9. 224 p. $18.99. Grades 3-7.
Tell a great scary story, and you're cool. Tell a great scary story under a cursed blood moon, and you're also in big trouble. Sixth grade Rafa has found his niche in composing the best scary stories for his sister, Brianna, and new friends like Jayden. Together, Rafa and Brianna have moved in with their Abuelo and Abuela. Although their incarcerated mother, Nikki, is about to be released and return home, too, the impending reunion is met with anxiety and distrust by both siblings. In the days leading up to Nikki's return, an older neighbor gives Rafa an ominous warning not to tell any of his scary stories under that night's blood moon. Despite this plea, Rafa shares a terrifying tale with friends that night: The story of a spirit named the Caretaker who lures people into a local park's pond to die. Unfortunately, Rafa should have listened to his neighbor. Now, it is too late. The Caretaker has come to life, and it is searching for new lives to claim. Rafa will have to figure out how to make this story have a happy ending…quickly.
THOUGHTS: The Cursed Moon contains just the right combination of creepy details and caring characters for a middle grade reader to thoroughly enjoy. While some of the focus is on the supernatural story action, Cervantes also weaves in lots of great realistic details that help fully form the characters of Rafa and Brianna. Pieces read like a realistic fiction story. At just over 200 pages, this is also an accessible book for developing middle grade readers who like a good thrill and chill!