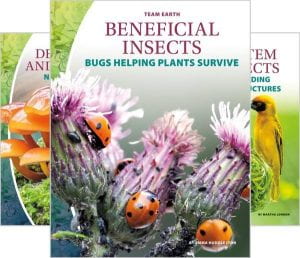 Team Earth. ABDO Publishing, 2020. $22.95 ea. $137.70 set of 6 (library bound). 48 p. Grades 4-8.
Huddleston, Emma. Beneficial Insects: Bugs Helping Plants Survive. 978-1-532-19097-1.
—. Decomposers and Scavengers: Nature's Recyclers. 978-1-532-10908-8.
—. Seed Dispersers: Poop, Fur, and Other Ways Animals Scatter Seeds. 978-1-532-19101-5.
—. Symbiotic Relationships: Animals and Plants Working Together. 978-1-532-19102-2.
London, Martha. Ecosystem Architects: Animals Building Incredible Structures. 978-1-532-19099-5.
—. Pollinators: Animals Helping Plants Thrive. 978-1-532-19100-8.
This series explores the ways in which animals and insects help each other within the ecosystems we live in. Each title explores the roles each organism plays – whether as a seed spreader, a decomposer, or a beneficial bug – within delicate ecosystems. The pages are filled with beautiful photographs, fun facts, and easy to read text. Each title provides a glimpse into the ways that humans can help protect our environment and allows readers a glimpse into parts of our world we often overlook.
THOUGHTS: A high interest series for students in grades 3-6 that have an interest in science and are looking to learn more about the relationships between animals, plants, and insects. The format of the text is student friendly and organized in an easy to read fashion. The QR codes in the back offer additional information for students looking for further information.
632.9 Plant Injuries, Diseases, & Pests          Jillian Gasper, Northwestern Lehigh SD