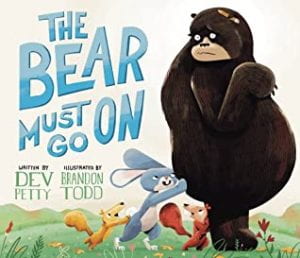 Petty, Dev. The Bear Must Go On. Philomel Books. 2020. 978-1-984-83747-9. $17.99. Gr. K-3.
Four friends decide to spend their spring day putting on a show! What a wonderful idea! They need costumes, music, tickets, and everything else to make the greatest show possible! Bear is happy to help, as long as he does everything behind the scenes, for Bear is too shy. Bear takes notes, LOTS of notes, and helps create all of the costumes, decorations, and anything else that may be needed. All is going well until the friends realize they forgot something… to create a show! But remember, the show must go on!
THOUGHTS: This is a cute book that talks about how overcoming your fears can be a beautiful thing!
Picture Book          Rachel Burkhouse, Otto-Eldred SD