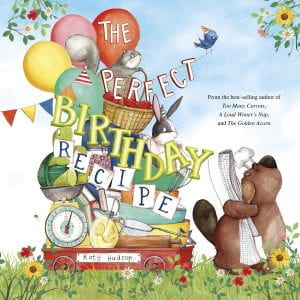 Hudson, Katy. The Perfect Birthday Recipe. Capstone Editions, 2020. 978-1-684-46037-3. Unpaged. $17.95. Grades K-3.
Beaver carefully, thoughtfully, perfectly plans every project, and his birthday cake is no exception. With extreme care Beaver plans each precise detail. His firends are excited to help, but Beaver worries they may not read his recipe properly. When each friend ruins a different part of Beaver's very ambitious recipe, he snaps. And Beaver isn't very nice about his ruined birthday cake. Alone, he works long into the night until his perfect birthday cake is exactly like he planned. As he prepares to enjoy a slice, Beaver realizes he missed his birthday by trying to make everything perfect. Beaver's friends come to the rescue and help him learn an important lesson; mistakes can be beautiful, and friends are an important part of life.
THOUGHTS: Children will enjoy this title which will make a great read aloud, especially near a birthday or for a Social Emotional Learning lesson.
Picture Book          Maryalice Bond, South Middleton SD