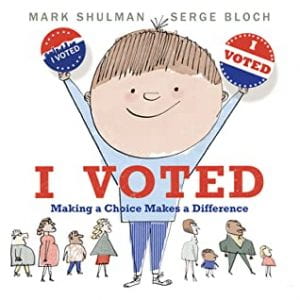 Shulman, Mark. I Voted: Making a Choice Makes a Difference. Neal Porter Books, 2020. 978-0-823-44561-5. $19. Unpaged. Grades K-3. 
A great introduction to voting! Author Mark Shulman guides young readers through the process of voting, from the basic concept that voting equals making a choice, to Election Day for adult voters. He uses excellent, applicable examples ("Some choices are easy to make: Ice cream or onions? Some choices are harder: Ice cream or cupcakes?" and "Imagine you're choosing a classroom pet…") and stresses the importance of talking to others about their opinions. No matter the outcome, "…your vote might be the one that makes a difference." While Shulman's text is great, it's really Serge Bloch's illustrations that set the book apart. There is generally one illustration for each sentence, which sounds like a lot, but Bloch's cartoon illustrations really help young readers see and identify with examples. Back matter consists of sections on how our government works, five easy steps for voting, information on state and local governments, and a reminder that "You Can Start Now."
THOUGHTS: A must-have for elementary school collections looking to beef up their government/election offerings.
324.6 Election Systems           Lindsey Long, Lower Dauphin SD