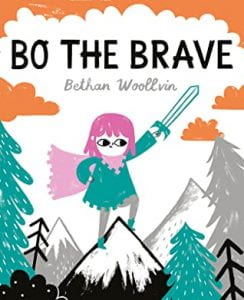 Woollvin, Bethan. Bo the Brave. Peachtree Publishing, . 978-1-682-63182-9. 32 p. $17.99. Grades K-3. 
When Bo's older brothers set off on a monster hunt, she wants to accompany them, but they refuse, telling her she's too little. Instead of accepting their words, Bo begins her own quest. Each monster she encounters makes her pause, and she takes time to look past first impressions and gets to know each creature's true nature. This insightfulness ultimately leads her back to her castle where she pulls off her final, most heroic act. A tight palette of orange, pink, teal, and gray provide the inspiration for this alpine world, dotted with mountains, lakes, forests, and seas. Sharp-eyed readers will notice the foreshadowing of each monster from one spread to the next. 
THOUGHTS: Instead of accepting peoples' opinions, Bo sets out to prove she's smart and brave and strong. Her self-confidence is refreshing and will inspire readers, particularly girls, to follow their own dreams and set off on their own adventures instead of remaining on the sidelines. Themes of acceptance and not judging based solely on appearance also shine through in this medieval remix. 
Picture Book          Anne Bozievich, Southern York County SD