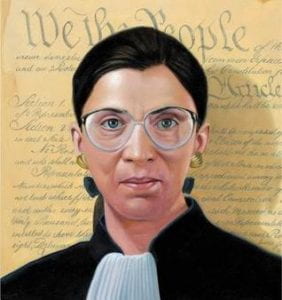 Rappaport, Doreen. Ruth Objects: The Life of Ruth Bader Ginsburg. Disney-Hyperion, 2020. 978-1-484-74717-9. Unpaged. $18.99. Grades 2-4.
This illustrated biography of Ruth Bader Ginsburg, the late Supreme Court Justice, highlights her life and achievements. It details her childhood, her college years, her marriage and family, and her career as a lawyer (and later, a judge). The story is interspersed with some of Ruth's very own quotations, making the narrative a little more personal. A timeline, bibliography, and additional resources are included in the back of the book. A solid portrait of an influential figure, this biography will inspire girls and boys alike to strive for the things they believe in, even if society tells them these things are unattainable.
THOUGHTS: This is an excellent introduction to the famous Supreme Court justice and a solid addition to any elementary biography collection. It would also make an outstanding starting point for a discussion about women's rights and/or gender equality. Even older students could learn something from this title; have them read about Ruth's achievements, then write a dissenting opinion of their own about a court decision with which they disagree. Its potential to both inspire and educate makes this title a worthy addition to most collections.
Picture Book          Julie Ritter, PSLA Member