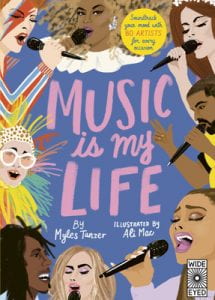 Tanzer, Myles. Music Is My Life: Soundtrack Your Mood with 80 Artists for Every Occasion. Wide Eyed Editions, 2020. 978-0-711-24918-9. $19.97. 111 p. Grades 6-12.
Music is my Life was created to help music lovers find more artists to love. Artists are grouped together within chapters titled Get Pumped Up With, Focus With, Fall in Love to, and more. Each artist is featured in a full page spread with biographical information, song suggestions, and information about how each artist's music will make the listener feel. Every artist is colorfully illustrated in a way that makes the person or band feel accessible and exciting regardless of age or the style of music they produce. Artists include Ariana Grande, Carole King, Prince, Chance the Rapper, and ABBA.
THOUGHTS: A fresh addition to any school library collection seeking to update their music and biography collections. Music is my Life achieves its purpose and those who read it will feel more connected to music than ever before.
781.1 Music          Jaynie Korzi, South Middleton SD