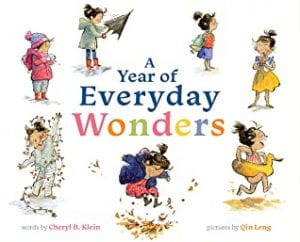 Klein, Cheryl B. A Year of Everyday Wonders. Abrams Books for Young Readers, 2020. 978-1-419-74208-8. Unpaged. $16.99. PreK-2.
Beginning on the first day of a new year, this story follows a young girl through all of a child's "firsts" within the course of the year. There's the first snowfall, the first green, the first beach trip, the first new teacher, the first Christmas gift–and much more in between. Not all of the experiences are positive; for instance, there are colds, storms, and many sibling fights. However, it is these everyday moments that ultimately make up a year's worth of memories. This is an endearing story about living in the present and cherishing the small moments, good and bad.
THOUGHTS: This book would be a great story to read with beginning readers, as the text is very succinct and somewhat repetitive, and the illustrations provide wonderful context clues. It would also make an excellent introduction to the four seasons in a preschool or kindergarten classroom. Have students bring in photographs of their "firsts" throughout the year and create scrapbooks. This book provides many possibilities for learning and connecting with students and should therefore be a strong consideration for purchase by preschool and elementary teachers and librarians.
Picture Book          Julie Ritter, PSLA Member