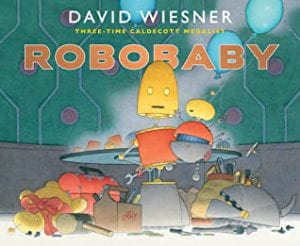 Wiesner, David. Robobaby. Clarion Books, 2020. 978-0-544-98731-9. Unpaged. $17.99. Grades K-3.
A new baby boy arrives at the robot family home – some assembly required. Big sister Cathode (a.k.a. Cathy) is delighted, and anxious to help mom and dad assemble little Flange. But, like grownups throughout time, mom Diode shoos Cathy aside, certain this is a job for adults. When little Flange proves more difficult to assemble than predicted, Di calls in her brother, Manifold. In stereotypical male style, Manny eschews the directions and makes a few "improvements." As family and friends gather with treats (mmm, greased gears!) to celebrate the new baby, Di, ignoring Cathy's insistence that updates need to be installed, initiates Flange, with disastrous results. But wise Cathy has a scheme. With the assistance of robopet Sprocket, Cathy distracts the adults long enough to rebuild the baby according to the plans, saving the day and the family. But wait! There's more! What's this left in the box? In classic, understated Wiesner style, Robobaby pokes fun at adult behavior. Brief speech bubbles contain the minimal text, leaving the creative artwork to captivate the reader's attention. Young readers will relate to Cathy's annoyance at being pushed aside, and celebrate her success in getting little Flange operational at last. As always, Wiesner's illustrations beg for multiple viewings to fully appreciate their detailed cleverness.
THOUGHTS: Children young and old will enjoy the story of big sister Cathy saving the day for the bumbling adults with their all-too-familiar behaviors, as well as soak up the rich, engrossing illustrations. The story only improves with subsequent readings. Another winner from Wiesner. 
Picture Book          Nancy Nadig, Penn Manor SD