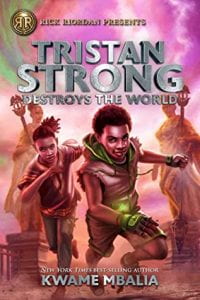 Mbalia, Kwame. Tristan Strong Destroys the World. Disney, 2020. 978-1-368-04238-3. 390 p. $17.99. Grades 3-7.
There's no rest for the weary. Tristan Strong may be the hero of the Battle of the Bay, having saved the mythical land of Alke, home to the West African gods and the legends of African-American folktales, but a battle means winners and losers, and it appears someone is not happy with Tristan. Barely a month has passed since Tristan returned from Alke when he's alerted that a shadowy figure called the Shamble Man is coming after Tristan. When he comes, he destroys Tristan's grandparents' farm and kidnaps his grandmother. It's time to return to Alke. Luckily Tristan has his SBP (Story Box Phone), inhabited by Anansi the spider, who is doing a little magical app development while cooped up in the SBP. Soon they are on their way to the mythical lands to try and discover the identity of the Shamble Man, rescue Nana and set Alke right again. As Tristan attempts to uncover the identity of the Shamble Man, friends old and new come to his assistance, but it looks like time might be running out on Tristan. Mbalia's conversational narration (the audio book, read by Amir Abdullah, is sensational) grabs readers from the first words. Tristan is eminently likeable, as he struggles with fears and self doubt, but the surrounding cast of characters really brings the book to life. Once again, Tristan's tiny, gooey sidekick, Gum Baby, steals the show, offering a steady stream of tongue-twisted patter and comic relief. Fortunately for readers, the ending leaves plenty of room for further sequels, because we all need more Gum Baby.
THOUGHTS: There is no sophomore slump for Mbalia. This second entry in the series is easily as good as the first, if not better. The characters from African American folk tales and West African gods may not be familiar to young readers, but they will have a very good time meeting them. Hand this series to readers who enjoy mythology based books, but also those who like to laugh.
Fantasy          Nancy Nadig, Penn Manor SD