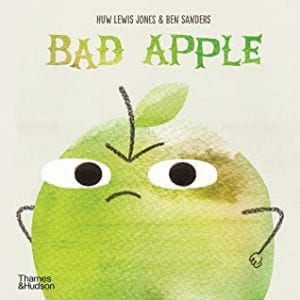 Jones, Huw Lewis, and Ben Sanders. Bad Apple. Thames & Hudson, 2021. 978-0-500-65243-5. unpaged. $16.95. Grades K-2.
The thing about Apple is that he's rotten to the core. It's not fair that he steals pear's chair or drinks pea's tea. Each rhyming act gets worse as Apple bullies the produce and others… until along comes snake! That turns into his big mistake, and the silly surprising moral will have fans of Jory John and Jon Klassen wanting to read it again! Jones and Sanders create an easy reading, silly sketched, rhyming bit of fun!
THOUGHTS: Those connections to the Hat trilogy by Klassen and the Bad Seed by John will be apparent to even the youngest reader, but it is different enough, and certainly good fun for those who know that style and enjoy a surprise ending! Hopefully a better discussion about respect and bullying comes from the readers than from the book itself!
Picture Book          Dustin Brackbill, State College Area SD