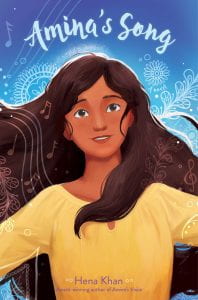 Khan, Hena. Amina's Song. Saleem Reads, 2021. 978-1-534-45988-5. 275 p. $17.99. Grades 4-6.
Amina is spending some of her summer in Pakistan with a family that she doesn't see often, and she loves it! The market, the food, the sights, as well as spending time with her extended family, it's hard to pick a favorite thing. With the end of the summer pending, Amina is headed back home and ready to share her favorite parts of Pakistan with her friends and classmates. However, they only seem to hear the bad parts of Pakistan, which is extremely frustrating and disheartening to Amina. She wonders if she can change their minds when she gets just that opportunity! Her history teacher assigns a project which just might help Amina change her classmates' mind about her homeland, as well as show them the Pakistan Amina knows.
THOUGHTS: Amina's Song is an amazing sequel which showcases the bond that Amina's family has between Pakistan and the United States wonderfully. I feel many readers will be able to relate to Amina's thoughts and feelings, especially when Amina is struggling to share her favorite parts of Pakistan with her classmates and friends. Highly recommend this book for any elementary or middle school collection.
Realistic Fiction          Mary Hyson, Lehigh Valley Regional Charter Academy