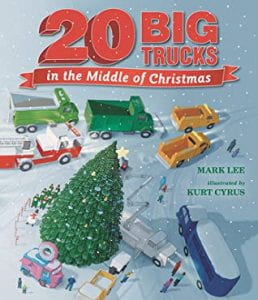 Lee, Mark. 20 Big Trucks in the Middle of Christmas. Candlewick Press, 2021. 978-1-5362-1253-2. Unpaged. $17.99. Grades PreK-2. 
Perfect for the truck lovers in your library, 20 Big Trucks in the Middle of Christmas combines boom trucks, fire trucks, flatbeds, and more with the magic of the holiday season. Two children watch the goings-on in their town on a cold, snowy day. A doughnut truck arrives in the town center, followed by several trucks clearing roads, bringing a Christmas tree and decorations, trucks to help set up and decorate the town, and a few final vehicles to bring extra Christmas spirit. Mark Lee tells a simple rhyming story that pairs nicely with Kurt Cyrus's colorful, clean illustrations. All the trucks are named and many are shown in use. My son, a major truck fan, will love this one! 
THOUGHTS: Perfect holiday fare for lovers of trucks and Lee's first 20 Trucks story. 
Picture Book          Lindsey Long, Lower Dauphin SD