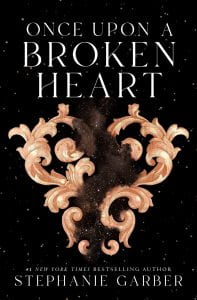 Garber, Stephanie. Once Upon A Broken Heart. Hodder and Stoughton, 2021. 978-1-529-38044-6. 403 pg. $19.99. Grades 9-12.
Evangeline believes in true love; however, life throws a wrench in her plans when the love of her life is going to marry someone else. In a desperate moment, Evangeline makes a deal with the Prince of Hearts; however, that does not go as planned! As she goes through with his deal she learns there is more to the Prince than meets the eye. She learns more about herself and what she wants out of life and love as she goes. This is set in the same world as Stephanie Garber's Caraval series; however, the reader does not need to read that series to understand this one.
THOUGHTS: This was a delightful little book! This was a fun, fast-paced read that will leave the reader craving the next book.
Fantasy          Mary McEndree, Lehigh Valley Regional Charter Academy
Evangeline Fox grew up in her father's curiosity shop believing in magic, fairy tales, and true love. When her stepmother announces that her stepsister will marry the man Evangeline loves, she desperately tracks down the Prince of Hearts, Jacks, and asks him to stop the wedding. The price: Three kisses at the time of his choosing. Confident that she made the right choice, she discovers that Jacks turned the wedding party to stone. Feeling guilty, she volunteers to take their place. Luckily, her time as a statue is short lived, and through some miscommunication, she's hailed a hero since no one, except for Jacks, knew that she was the cause of the disastrous wedding. When Evangeline is given the chance to journey to the north, she accepts and brings her stepsister, hoping it will make up for her ruined wedding and the rumor that she's a cursed bride. When they arrive at the court of Prince Apollo, who is looking for a wife, Evangeline's world is turned upside down when Jacks, who is at the ball as well, begins cashing in on their bargain. She fears that her secret will be revealed, realizes that making a bargain with a fate was a huge mistake, and starts to question if true love is worth fighting for after all.
THOUGHTS: Stephanie Garber's fantastical world, first introduced to readers in Caraval, is filled with eccentric characters, unique fashions, whimsical parties, fairy tale castles, delectable sweets, and curiosities beyond our imaginations. The vivid descriptions will make readers wish they could fall into the pages to experience the magic and wonder for themselves.
Fantasy          Emily Hoffman, Conestoga Valley SD