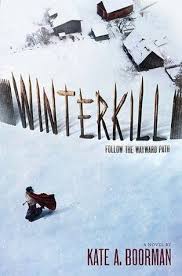 Boorman, Kate A. Winterkill. Harvey N. Abrams. 978-1-419712-35-7. 336 p. $17.95. Gr 6-12.
Sixteen year old Emmeline lives in a remote and enclosed Puritan-like village far into the Canadian Woods. The village is guided by purity and rules.  Growing up, Em and her family were "stained" because she had a disfigured foot and her grandmother had been executed for acting against the rules. She knows not to go across the town border, for a dark creature lurks in the woods that destroyed half the town years before, but Emmeline dreams of the beyond– and in her dreams the woods call to her. Intrigued and fascinated beyond her control, Emmaline crosses the border and discovers town secrets that could remove her stain, but also turn her seemingly idyllic town upside-down. Boorman's writing is beautiful and haunting; the plot unravels slowly and methodically, and the ending seems to promise a sequel. Give this to readers of fantasy and magic who might enjoy a historical backdrop.
Fantasy    Vicki Schwoebel, Friends' Central School
I received this ARC from the PSLA committee and thoroughly enjoyed reading it. It seems that the dystopian genre is still quite popular, and that's how this book is being identified, but I found it to be more alternate history and fantasy. While some of it does seem like the movie The Village, I don't think teens will be able to compare it to anything, so I love that it's much more original than other titles out there. I am an avid supporter of strong protagonists, and main character Emmeline is just that. There is a love story triangle thrown in so I can see teens being interested in that as well as the captivating story.