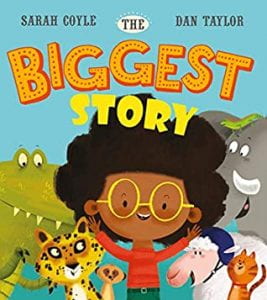 Coyle, Sarah. The Biggest Story. Kane Miller, 2020. 978-1-684-64045-4. 32 p. $12.99. Grades K-2.
Sarah Coyle's vibrant picture book, illustrated by Dan Taylor, reminds readers that even in a world with the iPad, Nintendo Switch, and YouTube, the best entertainment comes from the imagination of storytellers. Errol is surrounded by every toy and electronic he owns and yet, he is still bored. His mother is a fantastic storyteller, and he begs for one of her stellar stories. Unfortunately, she must complete some errands around the house first. She suggests Errol think up his own tale instead. While worrying that he doesn't know how to come up with a story, he bumps into some insect and animal friends who give him some fun and unusual ideas for his tale. Errol also meets some time-traveling dinosaurs who want a featured spot in his first literary creation. Together, his newfound furry and scaly friends help him create a story so big, even his mother, storyteller extraordinaire, is impressed with the final result.
THOUGHTS: This book shows students the power of storytelling and how a story can be generated just by looking all around you. Teachers and librarians will especially love that Errol has an activity in the back of the book to help students find their inner storyteller. What I love most about this book, however, is that Errol is a character of color featured in a children's book that shows him doing normal activities. Every library can benefit from books that show people of color being, well, regular people!
Picture Book         Danielle Corrao, Ephrata Area SD