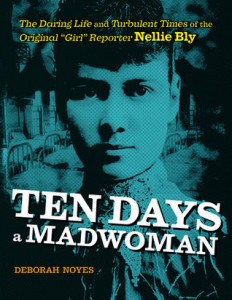 Noyes, Deborah.  Ten Days a Madwoman: The Daring Life and Turbulent Times of the Original "Girl" Reporter, Nellie Bly. New York:  Viking Books for Young Readers, 2016.  978-0-803-74017-4. 136 pp. $12.99. Gr. 5 & up.
Before Geraldo Rivera, there was Nellie Bly.  Born Elizabeth Jane Cochran, Nellie sought an opportunity to help her family who had fallen into financial difficulty due to her father's untimely death.  A racy letter to the local paper ignited her journalistic odyssey.  At the turn of the 20th century, there was little a woman could do to help support her family. Charged with stereotypical professions, women were not able to freely enter any career they wanted. Waging all or nothing, she headed to New York, where she found work as a journalist writing about "women's issues".  Frustrated that she was not being taken seriously, Nellie proposed an undercover investigation of the mental health facilities located at Blackwell's Island. It was both risky and rewarding.  Wildly successful, Bly was thrust into a fast-paced career as a journalist, even traveling around the world in less than 80 days. This biography details the courage of one woman to put herself in the path of the unknown to further her career while also pushing forward on the journey to women's rights. The biography, packed with primary source photos and news clippings, reads as a narrative tale.  Most if not all of the conditions found at the hospital are generalized, making it appropriate, but still engaging, for grades 5 and up.  THOUGHTS:  This is a must have for all middle school and high school collections.
070.9 Journalism; 92 Biography         Brooke Gerlach, Ephrata Area Intermediate & Middle School
Miller, Sarah. The Borden Murders: Lizzie Borden & the Trial of the Century. New York: Random House, 2016. 978-0-553-49808-0. 304 p. $17.99. Gr. 7-12.
August 4, 1892 was a just an average day in Fall River, Massachusetts, until local businessman Andrew Borden and his wife, Abby, were discovered brutally slain (bludgeoned to death by an ax) in their own home. Terror swept through the town as the police began their investigation and suspicion fell on the Borden's 32 year old daughter, Lizzie. Arrested and tried for the killing of her father and step-mother, Lizzie was ultimately acquitted of the crime, but she remained under a cloud of suspicion for the remainder of her life. Author Sarah Miller explores this horrific crime and subsequent court case in The Borden Murders. Readers will learn about the dynamics of the Borden household, the details of how the events of August 4th unfolded and how the Lizzie's court case gripped the newspaper readers of the day. The text is supplemented by photos, newspaper excerpts, portions of court transcripts/testimony and explanatory sidebars. THOUGHTS: This nonfiction title will keep readers on the edge of their seat as they try to decide Lizzie's guilt or innocence. A perfect choice for fans of mystery, true crime, or history books, or television shows like Law & Order or Dateline.  
364.1523; Crime         Elizabeth Henry, Lampeter-Strasburg HS/MS