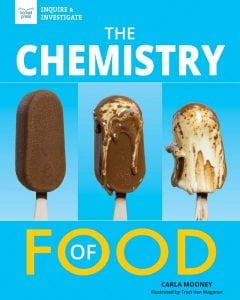 Mooney, Carla. The Chemistry of Food. Nomad Press, 2021. 978-1-647-41026-1. 118 p. $17.95. Grades 6-10.
This comprehensive overview does a deep dive into the formal chemistry of cooking and preparing food as well as a breakdown of the food humans eat and the impact it has on their bodies. Typical of most nonfiction books, there are bolded words, popouts, color photos, but this text also includes QR codes throughout for videos to enrich the experience. The content is broken up into five chapters, most of which have popup comic boxes with characters that follow along throughout the book.
THOUGHTS: A fun introduction to cooking and food investigation for middle grade students. The book can easily be adapted for classroom use or specific project research.
664 Food Technology          Samantha Hull, Ephrata