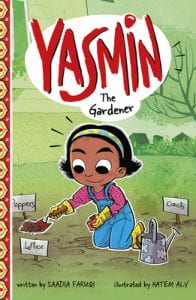 Faruqi, Saadia. Yasmin the Gardner. Picture Window Books, 2020. 978-1-515-84641-3. $15.99. Gr K – 2.
It is spring time, and Yasmin and her Baba are going to plant a garden! Yasmin is excited to plant all sorts of different items, from vegetables to flowers. After choosing her flower seeds, Yasmin is sure to provide her plant with lots of sunlight, water, and good soil. Her flower, however, is wilting! What can Yasmin do to help her flower grow?
THOUGHTS: The culture appreciation and information provided at the end of this book is fantastic. Yasmin is from Pakistan, and she explains that she is proud of her heritage and explains different information about her country!
Picture Book          Rachel Burkhouse, Otto-Eldred SD
Tags: Garden, Outdoors, Family