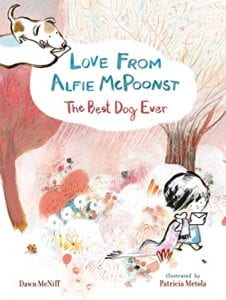 McNiff, Dawn. Love From Alfie McPoonst, The Best Dog Ever. Kane Miller, 2020. 978-1-684-64027-0. Unpaged. $14.99. Grades PreK-2.
Written as a series of letters between a deceased dog and its former owner (Izzy), this story details Alfie's new life in dog heaven. Although Alfie misses Izzy, he describes heaven as a place where he can chase postmen, eat burgers and ice cream, chew on shoes, and more–all without any punishment. A tender and somewhat humorous look at the loss of a pet, this story will encourage readers to creatively express their thoughts and feelings about death.
THOUGHTS: I actually read this story to my five-year-old daughter shortly after we lost our cat, and the first thing she wanted to do after reading it was to write a letter to our cat in heaven. Therefore, I love how this book inspires children to acknowledge their grief and make sense of death through the therapeutic act of letter writing. Pair this with Brian Lies's The Rough Patch (2018) to spark important discussions with young children who have recently experienced loss.
Picture Book          Julie Ritter, PSLA Member