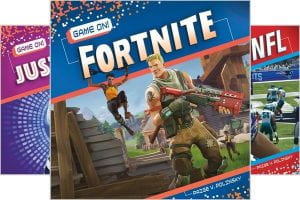 Polinsky, Paige V. Game On. ABDO, 2020. $20.00 ea. $120 set of 6. 32 p. Grades 3-6. 
Fortnite. 978-1-532-19164-0.
Just Dance. 978-1-532-19165-7.
Madden NFL. 978-1-532-19166-4.
Mario. 978-1-532-19167-1.
Minecraft. 978-1-532-19168-8.
Pokémon. 978-1-532-19169-5.
A great series for students who love gaming, this series details the history, development, features, and pop culture connections for several popular video games. Pokémon follows creator Satoshi Tajiri's fascination with both nature and video games from a young age. His idea for Pokémon drew from memories of bug collecting as a child! This volume details Tajiri's development of the Pokémon game for Nintendo's Game Boy and Game Link Cable and follows the rise of Pokémon into TV, more games, a float in the Macy's Thanksgiving Day Parade, Pokémon Go, and more. Backmatter includes a timeline, glossary, index, and online resources. The text is straightforward with colorful illustrations and photographs highlighting facts.
THOUGHTS: This is the series your young researchers crave! Perfect for use in school projects as well as pleasure reading.
794.8 Video Games          Lindsey Long, Lower Dauphin SD