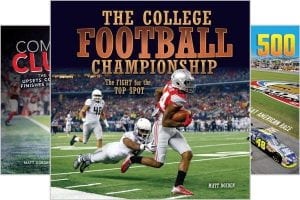 Doeden, Matt. Spectacular Sports. Millbrook Press, 2021. $25.99 each. $208.32 Set of 9. 64 p. Grades 5-8.
Coming Up Clutch: The Greatest Upsets, Comebacks and Finishes in Sports History. 978-1-512-42756-1.
It's Outta Here! The Might and Majesty of the Home Run. 978-1-728-41716-5.
The College Football Championship: The Fight for the Top Spot. 978-1-467-71897-4.
The Final Four: The Pursuit of College Basketball Glory. 978-1-467-78780-2.
The NBA Playoffs: In Pursuit of Basketball Glory. 978-1-541-54153-5.
The Negro Leagues: Celebrating Baseball's Unsung Heroes. 978-1-512-42753-0.
The Stanley Cup Playoffs: The Quest for Hockey's Biggest Prize. 978-1-541-57838-8.
The Super Bowl: Chasing Football Immortality. 978-1-512-42754-7.
The World Cup: Soccer's Global Championship. 978-1-512-42755-4.
This reviewer read It's Outta Here! The Might and Majesty of the Home Run in the Spectacular Sports series. This series offers meticulously-researched, well-written information, tons of sports statistics, and interesting full-color illustrations about high-interest sports topics that middle-level readers will be excited to learn more about. Each book in the series addresses a different major event in sports or sports history. The books include short chapters with catchy titles, captioned photos and diagrams, a glossary, and an index.
THOUGHTS: This series contains worthwhile additions for any upper elementary or middle level library that needs to add colorfully-illustrated, high-interest books about popular sports topics to its collection. (Title Reviewed: It's Outta Here! The Might and Majesty of the Home Run.)
796s Sports          Erin Faulkner, Cumberland Valley SD