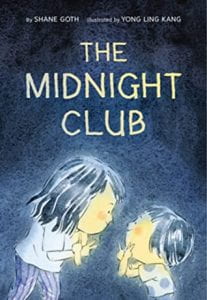 Goth, Shane. The Midnight Club. Owlkids, 2021. 978-1-771-47394-1. Unpaged. $19.95. Grades PreK-1. 
Milly and her older sister Becca are members of the Midnight Club. When the clock strikes midnight, they quietly slip downstairs to explore their darkened home. As any good club does, the Midnight Club has rules. The siblings must tiptoe around the criss-crossed shadows of the upstairs window panes. Another rule of this magical time at night is that they can do whatever they want–whether it be sitting in their father's chair and sampling his jelly beans or trying on their mother's coat. They are joined in their adventures by a third member of the club–Oliver the cat. When their eyes grow heavy and they begin to yawn, it's time to bring the club meeting to an end and return to their room before they are discovered. Young Ling Kang's watercolor, pencil and digital illustrations bathe the darkened house in hues of blue and purple, with yellow street lights shining in through windows. This helps to create the shadows that the girls use to make shapes on the wall during their nighttime escapades. 
THOUGHTS: A sibling secret club will be quite relatable to many children, as will the idea of embarking upon home-exploring adventures. Kang's illustrations lend the story a sense of nighttime stillness and atmosphere perfect for night adventures. Recommended. 
Picture Book            Elizabeth Henry, Lampeter-Strasburg SD