Westerfeld, Scott. Spill Zone. First Second, 2017. 978-1-59643-936-8. 224 p. $22.99. Gr. 9-12.
Addison and her sister Lexa live in the seemingly abandoned town of Poughkeepsie, New York. Lexa hasn't spoken since her parents disappeared three years earlier, when a strange "spill" occurred and changed the town forever. Not many venture into the spill zone, where nightmarish creatures and cruel manifestations lurk around every corner. But in order to support herself and her sister, Addie illegally ventures into the zone to capture pictures of the otherworldly terrors inside, selling them to curious outside collectors for top dollar. While in the zone, Addie has rules for herself that she refuses to break in order to stay alive – that is, until a collector offers her an incredible sum of money for extremely dangerous photographs. So Addie decides to take the risk, putting her life in danger, but to also hopefully to learn more about the spill – which might not be the only one in the world. A haunting, peculiar story from YA staple Westefeld, with surreal artwork from Alex Puvilland. THOUGHTS: A good addition to any graphic novel collection where post-apocalyptic tales are still popular.
Graphic Novel      Vicki Schwoebel, Friends' Central School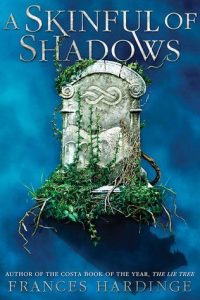 Hardinge, Frances. A Skinful of Shadows. New York: Amulet Books, 2017. 978-1-4197-2572-2. 415 p. $19.99. Gr. 7 and up.
Frances Hardinge writes odd, dark, twisty, and cleverly complicated novels, and her most recent offering, A Skinful of Shadows, is no different. This is the story of Makepeace, a girl raised in a strict Puritan community, who has the ability to house spirits inside of her head. Most of her life, Makepeace fought against these spirits and spent her formative years learning defensive tactics to keep them out. However, after a devastating accident leaves Makepeace orphaned, she unwittingly allows the spirit of a once-captive bear to take up residence in her head. Bear, as she calls him, becomes a fierce ally, and he and Makepeace form an unshakeable bond. Sent to live with her mysterious and aristocratic relatives, the Fellmottes, Makepeace learns some disturbing secrets about this side of her family, so when it becomes clear that her life is in danger, Makepeace flees. The novel is set in England during the reign of King Charles I, amidst great political turmoil and upheaval; the civil war between the Royalists and Parliamentarians plays a large role in the plot, with Makepeace both spying for, and subjugating herself to, both sides. While on the run, Makepeace acquires other spirits; watching the interplay between all of the personalities, including Bear, is what makes this story great and drives the action. Makepeace, who has no cause to trust anyone other than herself and Bear, must learn to come to terms with her abilities, and learn to put herself – literally – into the hands of others.  At the same time, she transforms from a girl with no agency into a fully-fledged, autonomous young woman, who is not afraid to get what she wants.
Historical Fantasy     Lauren Friedman-Way, The Baldwin School
Eager, Lindsay. Race to the Bottom of the Sea. Somerville, MA: Candlewick, 2017. 978-0-7636-7923-1. 432 p. $17.99. Gr. 6 and up.
Life is a series of oceanic adventures for Fidelia Quail, daughter of two prominent scientists (a marine biologist and a zoologist) in Lindsay Eager's Race to the Bottom of the Sea. On track to be as brilliant as her parents, and already with several substantial and successful inventions under her belt (including a two-person submersible), Fidelia's future looks very bright indeed. When disaster strikes, and Dr. and Dr. Quail are tragically lost during a storm, Fidelia is consumed by grief and guilt and is unsure how to move on. Her mourning is rudely interrupted by Merrick the Monstrous, the most fearsome pirate alive, who kidnaps Fidelia with the intent of using her to find his treasure. Merrick, however, has some secrets of his own, and is, perhaps, not as monstrous as everyone things. THOUGHTS:  This book is at once a fast-paced adventure novel of the high seas, while at the same time it's also a philosophical look at life, death, and sacrifice. The latter at times feels too heavy for middle-grade readers; this, combined with Merrick's backstory all about his doomed romance (the reader knows who his love interest is, but Fidelia does not), makes this novel less accessible than it should be.  However, Fidelia is such a feisty, whip-smart heroine, who uses both common sense and her scientific mind to think her way out of trouble, and she will definitely resonate with readers of all levels. Her relationship with Merrick, and her growing empathy towards him, is palpable, and serves to move the plot forward. Hand this to readers who enjoy quirky, outside-the-box tales.
Fantasy      Lauren Friedman-Way, The Baldwin School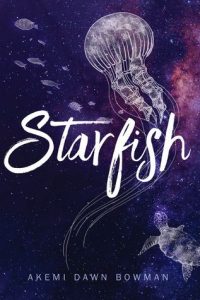 Bowman, Akemi Dawn.  Starfish.  Simon Pulse, 2017.  978-1-4814-8772-6. 343 p.  $17.99.  Gr. 9 and up.
All her life, Kiko Himura has felt like an outsider.  She suffers from anxiety and wants nothing more than acceptance from her mother, who belittles Kiko's Japanese descent (which came from her father) as well as her dreams of attending Prism Art School in New York City.  When Kiko receives a rejection letter from Prism, she is devastated.  She cannot stand to live in her house any longer with her emotionally abusive mother and her sexually abusive uncle.  She cannot move in with her father, for he is too preoccupied with his second wife and their newborn twin daughters.  Therefore, when a childhood friend invites her to head to California with him and look at art schools out west, she decide to take advantage of the opportunity.  Once there, Kiko begins to flourish.  Under the mentorship of artist Hiroshi Matsumoto, who befriends her at an art show, Kiko begins to find herself through art, and she finally gains the courage and conviction that had been missing all her life.  A moving story that will speak volumes to any reader who has ever experienced anxiety or self-doubt.  THOUGHTS: Though slow-moving at first, the pace of this novel picks up about halfway through, and readers will find themselves desperately rooting for the realistic and relatable Kiko and hoping that she soon finds her voice.  Besides drawing relatable characters, the author has also interweaved a love story and complicated family dynamics into the novel, creating a narrative that will speak to a variety of readers for different reasons.  A 2018 William C. Morris Award finalist, this novel will have readers anxiously awaiting Bowman's next release, set to debut in September of 2018.
Realistic Fiction      Julie Ritter, Montoursville Area High School