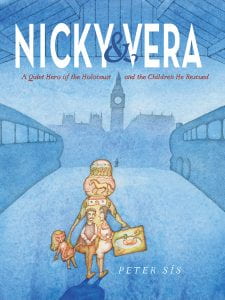 Sis, Peter. Nicky and Vera: A Quiet Hero of the Holocaust and the Children He Rescued. Norton Young Readers, 2021. 978-1-324-01574-1. $19.95. Grades 3-6. 
Peter Sis was visiting his native country (Czechoslovakia, now Czech Republic) when he chanced upon a memorial for Englishman Nicholas Winton, credited with saving the lives of 669 Jewish children by establishing passage for them out of Nazi-occupied Prague to foster families in England.  Sis was stunned that he had never heard of Winton's efforts, and he learned more of the history through Winton and one of the children he saved, Vera Gissing. Winton was moved to act when he skipped a ski trip to meet a friend in Prague in 1938; there he saw the suffering of many and the slowness of the systems offering any hope of freedom. He opened a makeshift office in his hotel room and quickly received overwhelming requests from parents to get their children out of the country. He returned to England to raise funds, advertise for foster families, and procure necessary forms. He found much support, but still found it necessary to forge forms and bribe officers when he returned to Prague. In total, he arranged for 9 trains to carry children out. The first eight trains carried 669 children to new families in England. The ninth train, scheduled to leave on September 1, 1939, was thwarted by the Nazi invasion of Poland. It is believed that just two of the 250 'Winton's children' meant to be on that train survived.  Winton never told his story until the 1980s when his wife chanced upon a box of the children's information in their attic.  She arranged a meeting between Winton and some survivors, many of whom learned of his name and efforts for the first time. Sis rightly calls Winton a hero, as do the children whose lives he saved. Vera's story is told in the out-of-print Pearls of Childhood, while a documentary "Nicholas Winton: The Power of Good" was made about Winton.
THOUGHTS: This is a powerful, cleverly illustrated story of remembrance interweaving Vera's life with Winton's efforts and highlighting the stalwart love and care of so many across the world.  Though K-3 is the indicated grade level, this feels well-suited for upper elementary children as well.
Biography          Melissa Scott, Shenango Area SD