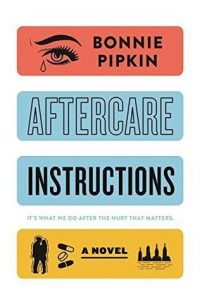 Pipkin, Bonnie. Aftercare Instructions. Flatiron Books, 2017. 978-1-125-011484-6. 368 p. $17.99. Gr. 10 and up.
Genesis, named for the band, is hurting. Her life has been full of pain and letdowns. Gen tells her story of being abandoned at an abortion clinic in New York City. As promised, she told no one about the pregnancy, not even her best friend, but Peter ditched her, and now she needs help. She's from New Jersey and has to make her way back home on her own. Dark and disturbing, Aftercare Instructions focuses on Genesis's post-abortion fallout, as she tries to understand her failed relationship and figure out when she and Peter grew apart. As Gen spirals out of control to forget Peter and the pain of losing him, she needs to figure out who she is on her own.  This unique storyline is interspersed with procedural and post-procedural instructions, flashbacks to her relationship with Peter, while revealing Gen's current struggle to forgive or forget Peter. As if this wasn't unique enough, Pipkin incorporates a four act throughout the novel play that gives voice to those in Gen's life.  THOUGHTS: Aftercare Instructions gives teens an intimate view of one girl's choices and the repercussions of them. Descriptions of sex, abortion, and teen binge drinking may not be suitable for younger readers.
Realistic Fiction      Maryalice Bond, South Middleton SD
Silvera, Adam. History is All You Left Me. Soho Teen. 2017. 978.1616956929 294 pp.  $18.99. Gr. 9 and up.
Griffin and Theo are each other's first loves and part of a tight knit, three piece "squad" with their friend Wade. Theo, smart, creative and confidant, is a life line for Griffin who suffers from an array of obsessive compulsive tics and anxieties. Griffin feels grounded and safe in the company of Theo and Wade. But in a surprise development, Theo decides to graduate high school early and head off to college in California, leaving the squad behind. Griffin is forlorn and reluctantly breaks up with Theo to give him his freedom in his new life.  Within months, Theo has found a new love at school and Griffin, increasingly isolated and anxious, begins to unravel at home.  Griffin and Theo's new boyfriend are at odds;  Griffin continues to obsess over Theo, and the relationship between the three friends changes dramatically. When Theo dies in an accident, Griffin, Wade and Theo's new love, Jackson, look to each other to mend their broken hearts. The story is told in chapters that flash back and forth from the beginnings of the friendship between the squad, the development of Theo and Griffin's romance, the long winter when Theo left and fell in love with another,  and the aftermath of Theo's death.   This emotional and heart-wrenching tale examines the paths people take to come to terms with heartbreak, grief, guilt and self-doubt and come out stronger in the end.  THOUGHTS: A strong and positive portrayal of LGBT relationships with well-drawn , complex characters and a nuanced plot that explores sexuality, mental health, friendship, and loss. A rewarding read.  
Realistic Fiction     Nancy Summers, Abington SD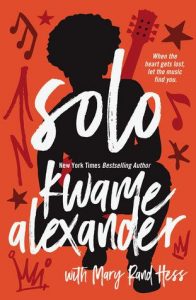 Alexander, Kwame and Mary Rand Hess. Solo. Blink, 2017. 978-0-310-76183-9. 464 p. $17.99. Gr. 9 and up.
Blade is a seventeen year old who has grown up living the life of a rock star legend's son,  the good and the bad sides. He's had everything he could ever want, but he grew up in the public eye with paparazzi watching out for every misstep. His life hasn't been without tragedy either. At nine he lost his mother, and his father lost himself to addictions. Blade and his sister grew up with broken promises of sobriety.   When his father literally crashes one of the biggest moments of his life, Blade has had enough. He's witnessed enough broken promises to fill a lifetime and cannot forgive his father this time. Blade begins to question everything he has known when a deeply hidden family secret comes to light. A journey from the hills of Hollywood to a village in Ghana may be just what he needs to rediscover who Blade Morrison is and for what he stands.   THOUGHTS: Like Alexander's sports themed The Crossover and Kicked, Solo is told in verse. With the music inspired characters, this time the story is interspersed with song lyrics, many by main character Blade Morrison. Fans of music, especially rock and roll, will appreciate the references and lyrics. Within the short lines, there is much more than music. Family contentions, addiction and substance abuse, as well as one's identity are all pieces of the puzzle. This book has so much more to offer all readers, and reluctant readers especially will enjoy its brief verse style.
Realistic Fiction       Maryalice Bond, South Middleton School District
Alexander, Kwame and Mary Rand Hess. Solo. Blink, 2017. 978-03107-61839. $17.99. 464 pp.  Gr. 9 and up.
Blade Morrison hates most of his life. Seventeen and about to graduate from high school, he has grown up the son of ultra-famous rock star, Rochester Morrison.  But fame, wealth, and a Hollywood Hills address can't make up for the spiral of drug use and unsuccessful rehab stints his father has failed to master since Blade's mother's death eight years ago.  The tabloids, the paparazzi, his father's embarrassing episodes are building up anger in Blade.  The few bright spots are his secret girlfriend, Chapel, his talent and love for songwriting and guitar, his music mentor Robert, and sometimes, even his older sister.  But his anger leads to a secret family revelation, he was adopted which shakes his identity even further.  Impetuously, he heads to Ghana to locate his birth mother, but not until he smashes a priceless guitar that was a gift from his father and inks his arm "Chapel" just before he finds Chapel kissing her former boyfriend.  Needless to say, Blade is swimming in agony and anger as he leaves the States.  This is an extremely well-written novel in terms of word choice, rhythm and interest; it is clever in so many word and musical ways.  The use of American music to illustrate various situations lends insight and easily leads the reader to seek out (or call up a mental soundtrack) specifically mentioned songs, largely blues and rock.  I caught enough clever musical references to be certain I missed many more.  However, character development and the overall storyline are largely unbelieveable.  Blade changes too quickly and completely from self-centered, angry, whiny, privileged son of a rock star who hates said rock star into calm, open-minded, hopeful young man at peace with his music, his father, and his place in the world.  And this change is due to what?  Two weeks in Ghana to locate his birth mother?  Other characters and changes are fairly unbelieveable as well, mainly his father's decision (yet again) to change, and certainly his new love interest, ultra-wise Joy, in Ghana.  Blade switches from devotion to his American ex-girlfriend who cheats on him, to new-found Joy (pun intended) within days, again, unrealistically, lustfully, or at least unhealthily.  THOUGHTS:  Overall, this is an enjoyable read for the fantastic writing skill, abundant music knowledge, and obvious love of music, but the story lacks verisimilitude.  
Realistic Fiction      Melissa Scott, Shenango Area School District
Alexander, Kwame. Solo. New York: Harper Collins, 2017. 978-0-310-76183-9. 464 p. $17.99. Gr. 8 and up.
Kwame Alexander has struck again! In his signature verse, Alexander's newest novel, Solo, is reminiscent of The Crossover and Booked, but with decidedly more mature content and characters. Blade is tired of being let down by his father, former rock star, Rutherford Morrison; he's tired of Rutherford's grand gestures that inevitably end up with Blade humiliated, or Rutherford back in rehab. Blade finds comfort in two things: his music and his very serious girlfriend, Chapel. When a bombshell revelation from Blade's sister coincides with a betrayal from Chapel, Blade decides to travel to Ghana to find some answers to his questions about who he is, and where he came from. While Blade lacks some of the charm and likability that Josh (The Crossover) and Nick (Booked) both displayed, he's still a compelling character. His passion for music is endearing, and his all-encompassing relationship with Chapel is definitely relatable. Give this to fans of Alexander who have outgrown the middle grade section of the library. Thoughts: While I really enjoyed this book, I found Blade's trip to Ghana slightly unrealistic. Not only did Blade just get on the plane without any pre-planning whatsoever, he had no trouble navigating through a foreign country nor did he encounter any obstacles once he arrived at his destination.  
Realistic Fiction Lauren Friedman-Way, The Baldwin School
Menon, Sandyha. When Dimple Met Rishi. Simon Pulse, 2017. 978-1481478687. 384 pp. $26.00. Gr. 9-12.
Dimple Shah lives and breathes web development, so she's thrilled when her parents agree to let her attend Insomnia Con in San Francisco during the summer before she enrolls at Stanford University. Rishi Patel is also at Insomnia Con, partly to participate in the intense six-week app coding contest, and partly to meet Dimple, whom his parents have selected as his potential marriage partner. Unbeknownst to Dimple, her parents are also in on this scheme to pair her with an "I.I.H." (Ideal Indian Husband). Rishi introduces himself by saying, "Hello, future wife!" and a mortified Dimple flings her iced coffee at him and scurries away. To her chagrin, Rishi has requested her as a partner for Insomnia Con, and when they start working together Dimple realizes that Rishi is artistic, funny, and sincere. Rishi, meanwhile, likes Dimple's smile and all-in approach to pursuing her goals. Their perspectives alternate as they explore San Francisco and develop their app initiatives amidst hipsters, hippies, and not-so-friendly competitors. Menon's wonderful debut novel is spared from predictability by witty banter, a cool setting, and flipping stereotypical relationship roles upside down (Rishi is the one hoping for an arranged marriage, and Dimple is focused on her work). THOUGHTS: This delightfully of-the-moment rom-com, complete with coding and caffeine, belongs in every teen collection!
Realistic Fiction, Romance     Amy V. Pickett, Ridley School District
Dimple Shah and Rishi Patel could not be more different.  Dimple is an independent young woman, passionate about coding, who feels confined by her parents' expectations – specifically her mother's, who seems bent on making Dimple into the perfect wife.  Rishi is a rule follower to his core; he wants nothing more to please his parents, even if that means setting aside his own dreams.  Rishi is thrilled with the idea of an arranged marriage with Dimple, something that he's known about, and daydreamed about, for a long time.  Dimple, on the other hand, has no idea that there is any arrangement with Rishi, and anyway, marriage is the last thing on her mind.  So when the two of them meet for the first time at Insomnia Con, a summer coding program, it goes hilariously awry, beginning with Dimple pouring her iced coffee all over Rishi when she thinks he's a stalker.  Sandhya Menon has written a delightful, smart, funny romantic comedy, starring two protagonists who think they know exactly what they want out of their lives, but after some unexpected revelations, realize maybe there's more out there for both of them.  While the ending is a little too neat and tidy, it's gratifying to see Dimple and Rishi become the people they were meant to be. THOUGHTS:  I loved this book. Dimple and Rishi are extremely relatable, and I enjoyed the reversal of gender expectations; Dimple is focused solely on college and a career, whereas Rishi is excited by the prospect of having a wife and family.  The way Menon depicts microaggressions, and the different ways that Rishi and Dimple deal with them – Dimple clams up, and Rishi confronts it head-on – is both realistic and poignant.  While the supporting characters are a little stereotypical, it doesn't detract from the story at all.  Highly recommended for all high school libraries!
Realistic Fiction; Romance    Lauren Friedman-Way, The Baldwin School