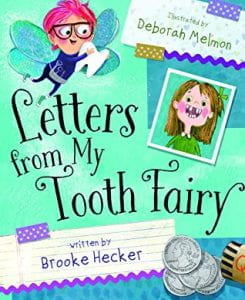 Hecker, Brooke. Letters From My Tooth Fairy. Sleeping Bear Press, 2020. $16.99. 978-1-534-11055-7. Unpaged. Grades K-2. 
Every kid will want to rush home and pull their loose tooth after reading this story! Natalie just lost her first tooth, and her Tooth Fairy leaves her a little money along with a special note. Over the years, as Natalie loses more teeth (which are labelled and shown on a cute diagram at the top of the page), she and the Tooth Fairy exchange notes, and the Tooth Fairy gives her a little special magic when she needs it most, like a pat on the back for bravery when she loses a tooth in a playground accident or a special necklace when she loses her first tooth as a big sister. Miss Mary Molar, her mom's Tooth Fairy, comes for a special visit when Natalie loses a tooth while visiting her grandparents, and the Timberwood Tooth Fairy pays a visit during a summer camp tooth loss. Deborah Melmon's colorful cheery illustrations pair perfectly with Brooke Hecker's epistolary tale.
THOUGHTS: Sure to be a big hit with the gap-toothed K-2 set, this is an enjoyable story for any elementary-aged reader.
Picture Book          Lindsey Long, Lower Dauphin SD