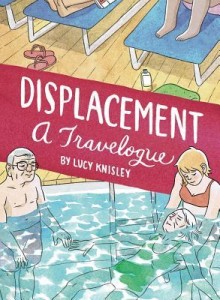 Knisley, Lucy. Displacement: A Travelogue. Seattle: Fantagraphics Books, Inc., 2015. 978-1-60699-810-6. 156 p. $19.99. Gr. 9 and up.
Lucy Knisley, queen of the graphic travelogue, returns with this earnest account of accompanying her 90-something grandparents on a cruise in 2012. She manages her grandmother's dementia and her grandfather's physical limitations (including incontinence) with outward calm and cheerful patience. Internally, though, she wrestles with anxiety, frustration, and sorrow over their declining health. She brings along a copy of her grandfather's unpublished World War II memoir as a conversation starter and connection to her grandparents' youth. At the end of each chapter, she includes an excerpt and illustrates the scene, cleverly reminding readers that old people weren't always old. As Knisley writes, the trip she chronicled in The Age of License was about independence, sex, youth, and adventure. This trip is about respect for her elders, sympathy, mortality, and familial love. It's very different, to be sure, but it depicts an equally important aspect of growing up. It's a welcome addition to Lucy Knisley's outstanding coming-of-age travelogues.
914; Travelogue            Amy V. Pickett, Ridley High School

The contemplative full-page panel on page 61, in which she reflects on how her family shows affection, would work well as part of a mini-lesson on reading comics. And, is it too soon to start looking forward to Something New: Tales from a Makeshift Bride, coming in May?