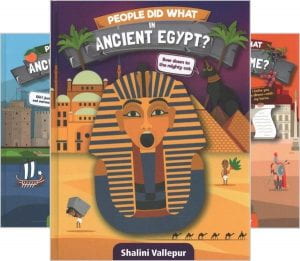 Vallepur, Shalini. People Did What. Crabtree Publishing, 2020. $7.51 ea. $30.04 set of 4. 32 p. Grades 3-6. 
People Did What in Ancient Egypt? 978-0-778-77423-5.
People Did What in Ancient Greece? 978-0-778-77424-2.
People Did What in Ancient Rome? 978-0-778-77425-9.
People Did What in the Viking Age? 98-0-778-77433-4.
This series introduces young readers to a variety of historic cultures. The vivid, comic book covers entice browsers to open the book, and brightly colored, highly illustrated pages will captivate their attention. Interior pages are a collage of photographs, illustrations, and clip art, supplemented with brief blocks of text allowing for skipping around the page. While the information is factual, topics seem obviously chosen to titillate youngsters (how Vikings used pee to start fires). The books are organized by topic, contain such text features as table of contents, glossary, and index (the Ancient Egypt index did contain several mistakes), as well as suggested books and websites for additional reading. While these books would not be used for research, they are perfect for sparking interest in casual readers.
THOUGHTS: The books are visually appealing and full of the weird, gruesome facts kids love. They would be a good purchase for elementary libraries looking to expand their nonfiction offerings and a great option for those readers who prefer entertaining nonfiction books.
History 932, 938, 937, 948          Nancy Nadig, Penn Manor SD