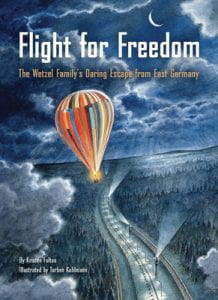 Fulton, Kristen. Flight for Freedom: The Wetzel Family's Daring Escape from East Germany. Chronicle Books, 2020. 978-1-452-14960-8. $17.99. Grades 2-4.
There are two sides in Germany, the right side and the wrong side. Peter is aware that he was born on the wrong side of Germany, where there are more strict rules and uncomfortable uniforms, and having nice food can be near impossible. While other kids can be watching cartoons on the right side of the wall, Peter is watching news stories and programs. Peter, however, has found the secret his parents have hidden away. With his family, Peter knows that life can be different and will be different for them. Each night, Peter and his family go into the attic to slowly piece together their way to freedom… through a hot air balloon.
THOUGHTS: The illustrations in this book are absolutely stunning. The back of the book contains real information on the hot air balloon the Wetzel family created to help secure their freedom. Older readers will appreciate the story and the history behind it.
325 International Migration          Rachel Burkhouse, Otto-Eldred SD