Sonnenblick, Jordan. Are You Experienced? New York:  Little, Feiwel and Friends, 2013. 978-1250025647. 294p. $17.99. Gr. 9-12.
Fifteen-year-old Rich gets caught playing guitar at a protest rally and feels the frustration of his depressed dad's silence coming down on him. He breaks into his dad's office and finds his dad's treasured signed Jimi Hendrix guitar and decides to play it. With just one chord, Rich is transported back in time to Woodstock and meets his dad and his older brother who will overdose on heroin within weeks after the concert is over. Over the three day festival, Rich gets to know his fifteen- year-old dad and his uncle and meets an assortment of characters including Jimi Hendrix himself.  At times this story seems to glorify the drug and sex scene at Woodstock, but it also shows the negative effects of such reckless behavior. Not sure if many teens today will be able to pick up on all the cultural and musical references of the novel, but I did and enjoyed them.
This novel takes on the age old theme of what were our parents like at our age and what happened to them to make them the way they are today as parents. Rich's father is overly protective of him and is afraid that he will get involved in drugs and overdose and kill himself like his brother did. I think this book does a good job of helping teens understand that we may not know our parents very well or understand them, but both dialogue and communication can help in just about any situation.
Fantasy                                        Marian Kohan, Erie School District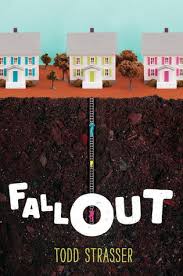 Strasser, Todd. Fallout. Massachusetts:  Candlewick Press, 2013.  978-0763655341. 258p. $18.00. Gr. 7-12.
This book takes an interesting look at the 1962 Cuban Missile Crisis and shows what would have happened to an average family if the nuclear bombs were dropped. Ten year-old Scott's family is the joke of the neighborhood when Scott's father decides to build a bomb shelter in their backyard to keep their family of four alive and safe for two weeks in the event that there is a war.  Even though the talk of war and bombs is everywhere, only Scott's dad has prepared for the unthinkable. When the war does begin and bombs do drop, there is absolute panic in the neighborhood as everyone wants their family to be protected in the shelter. (Do you remember the Twilight Zone episode on the same topic?) Chaos ensues and by the time the door closes on the shelter there are ten people inside with barely enough supplies for four.  Scott's mother is also injured in the melee and what later transpires is an honest and raw look at humans behaving mainly at their worst as they hope to survive.
Realistic                                   Marian Kohan, Erie School District
I really liked this book. The story is told from Scott's point of view which is perfect and the use of flashbacks every other chapter to tell the back story also works well.  A student who liked read the book was not familiar with the Cuban Missile Crisis and then read more about it to get a feel for the history involved. He did like the book.