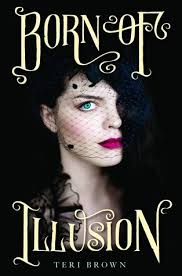 Brown, Teri. Born of Illusion. New York: Balzer+Bray, 2013. 978-0062187543. 384 p. $17.99. Gr. 9-12.
A new entry into the crossover genres of historical fiction and fantasy, Born of Illusion seems to attempt to be the sister of Libba Bray's The Diviners but really can only be considered a distant cousin.  Sixteen-year-old Anna Van Housen is newly arrived in 1920s New York City, and prepares to open a new illusionist show with her mother. Prior to moving to New York, the pair lived a transient life, traveling with various circuses and escaping from arrest for performing séances, which were outlawed at that time. The secret of their illusionist show lies in the fact that it is Anna who is the true illusionist (and possibly the illegitimate daughter of Harry Houdini, who makes a few appearances throughout the story): she can feel the emotions of those around her. Through illicit séances held in their apartment, Anna meets rich and bored Cynthia Gaylord, who introduces her to the Society for Psychical Research, through which Anna begins to learn more about her own abilities.  Anna believes her mother to be jealous of her talents, and notices her numerous attempts to sabotage shows. Soon, though, Anna's talent comes to light, and it is only fitting that there are those after her who want to use her talents for evil purposes. Romantic relationships also begin to develop for Anna; one with the handsome but mysterious Cole who lives in the flat below hers, and another with man-about-town Owen, the nephew of her stage manager (who, consequently, develops feelings for Anna's mother). The glamorous setting of 1920s New York is appealing to young teens currently enamored with the 1920s after seeing the film adaptation of The Great Gatsby, and does offer some glimpse into life during this time. Give this book to readers too daunted by the length of The Diviners and those who love their history mixed with a little bit of fantasy.
Historical Fiction; Fantasy             Lindsey Myers, Peters Township High School
As noted in the review above, this book immediately reminded me of The Diviners, even though it is not nearly as well developed or as in-depth a portrayal of the occult or general life in the 1920s. There seems to be a booming popularity and interest in the 1920s by teenagers right now; they want to read about the extravagant, fantastical life that was led by many in the face of the strict Prohibition laws imposed by the government. I attribute this to, as noted, the popularity of The Great Gatsby as well as the HBO series Boardwalk Empire. And, of course, the occult and magic has always been of interest to teens.
Moreover, this blends together the genres of historical fiction and fantasy novels, a phenomenon which is occurring more regularly in the current Young Adult market. Recently, I presented on this topic at the College English Association Conference with a graduate student from West Virginia University. As part of the research process, we surveyed young adults in high school as well as college, and asked them about their current reading preferences. Numerous students spoke to enjoying fantasy novels because they offer an escape from their current reality. Since many read historical fiction for the same purpose, it is fitting that authors would begin to blend these two genres together. As a library media specialist, I am excited at this blurring that is occurring between two of my favorite genres. It opens up more avenues for exploring different eras while still offering that "escape" and magic that some teens crave. This is also a positive outcome for students who enjoy fantasy but have not been so engaged by historical fiction. For example, in my high school, all Honors English students in grade 10 are required to select and read a historical fiction book as part of an independent reading project. While many have read quite a few fantasy books, historical fiction usually has not been on the top of their favored genres list. So, while Born of Illusion was not my absolute favorite entry into this new category, I will recommend it to students who note that they do enjoy fantasy and might need a little nudge into the world of historical fiction. I look forward to seeing many more titles like Born of Illusion being published, as they do encourage teens to explore new territories during independent and classroom reading opportunities.